Everyone is familiar with Google Flights: with this you can easily look up how much money you spend on a certain trip and what ecological footprint you leave behind. For trains, Google was never that comprehensive, but it now comes in Europe with information about international trains.
International train travel
Traveling by train is considerably better for the environment than taking a plane. Do you really have to fly to Berlin or to Paris, or is the train a better alternative? Especially with the waiting times at Schiphol, it is extra smart to look at this. Although trains are sometimes delayed, it rarely happens that an international train is canceled in its entirety. Plus, trains are significantly less subject to weather conditions than airplanes.
Google works together with train companies in Germany, Spain and Italy, among others, to achieve better international train results. For example, if you enter 'Berlin to Amsterdam trains' in Google (or vice versa, that is also possible), you will immediately see a statement in the search results with when those trains leave, how often you have to change and what it may cost . There is also a button with which you can immediately buy your ticket.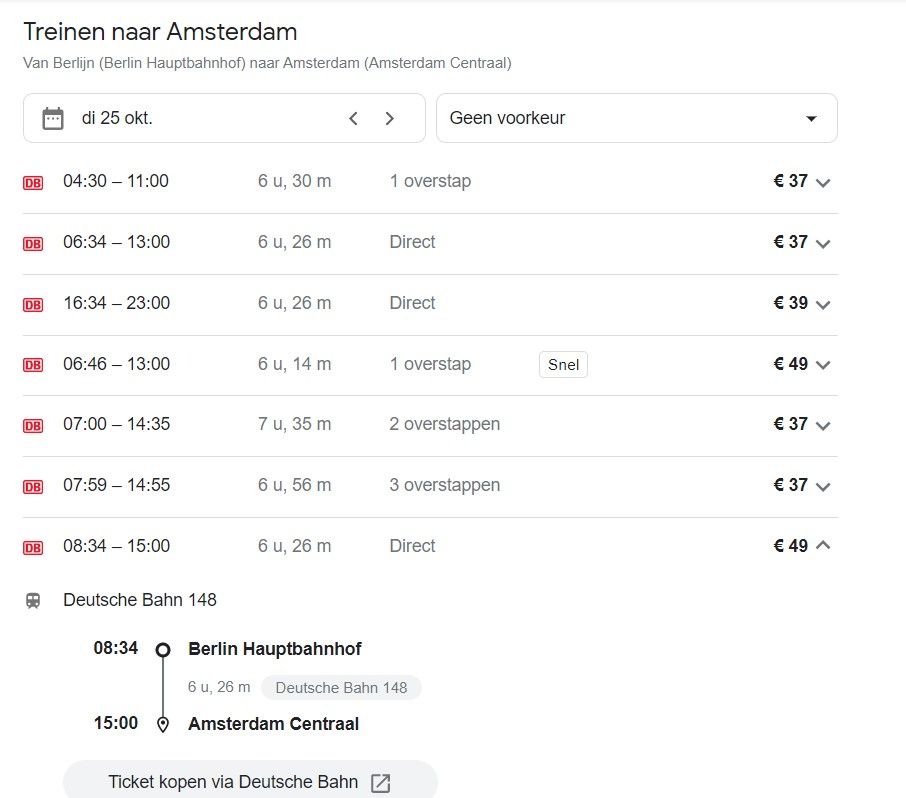 More information and tickets
Google is currently also looking with other companies to see if it is possible to integrate this information. Or also with NS whether NMBS will speak, that is still unknown, but we think the chance is high. Google would also like to add buses to it. At the same time, not all companies are equally happy with this new feature from Google. RailEurope, The Train Line and Hopper will probably not be thrilled that people will soon buy tickets directly from the provider via Google, instead of via their platforms.
This integration can also be found when searching for flights. After all, if you take the train, you can reduce the CO2 emissions of your trip enormously, while by train you are also lucky enough not to have to go through strict customs. You can even bring perfume bottles as big as you wish. Smart by Google to immediately use the trains there as an alternative to offer more inspiration to travel in a more environmentally friendly way: and probably also a lot cheaper.
Do you ever use Google to directly book a flight and would you also do that by train? Leave it now in the comments to this article.
– Thanks for information from Androidworld. Source