Last year, Apple gave the iPhone 12 (Pro) a completely new look, but with the iPhone 13 (Pro), the design changes are less noticeable. Yet they do exist, and in this article you can read about the differences.
iPhone 13 design
As with last year's iPhone 12 (Pro), the iPhone 13 (Pro) has a robust design with flat sides and an aluminum housing. The screen sizes have remained the same and the back of the device is again equipped with a double or triple camera.
But in addition to the many similarities, there are also differences. This is what Apple changed to the iPhone 13 design. Are you reading along?
1. The notch is smaller
Since the iPhone X from 2017, the high-end iPhones have a small notch in the screen. This is the notch, which includes the selfie camera and technology for Face ID. With the iPhone 13, Apple made the notch smaller for the first time; Apple said it is 20 percent narrower than the notch used in previous models.
2. Larger Camera Module
It's a subtle difference, but the camera system on the back of the iPhone 13 is larger than the previous models. The lenses have a larger image sensor, so they absorb more light and are less sensitive to noise. The lenses on the iPhone 13 and iPhone 13 mini are also slightly further apart to enable better image stabilization.
3. Heavier and thicker
The iPhone 13 models are nearly identical in design to the iPhone 12 models, yet there are subtle differences in weight and thickness.
iPhone 13 mini: 141 grams (previously 135 grams)
iPhone 13: 174 grams (previously 164 grams)
iPhone 13 Pro: 204 grams (previously 189 grams)
iPhone 13 Pro Max: 240 grams (previously 228 grams)
The thickness has also increased. With all iPhone 13 models, that is 7.65 millimeters. With the iPhone 12 series, that was 7.4 millimeters. A small difference, but it can cause some iPhone 12 cases not to fit the iPhone 13 phones.
The fact that they are slightly heavier and thicker is probably mainly due to the larger battery that Apple has placed in the iPhone 13.
4. New colors
There are of course also new colors. The iPhone 13 Pro (Max) is available in a shade of Sierra Blue – a kind of light blue. Furthermore, you still have the choice of gold, graphite and silver. The ocean blue hue is unfortunately disappearing.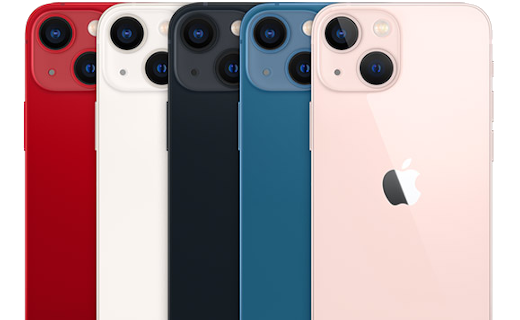 With the iPhone 12 mini and iPhone 12, the colors are more exuberant: starlight (a kind of white), midnight (say black), blue, pink and red. The pink color is new. There is no longer a purple or green version.
Everything about the iPhone 13 (Pro)
Do you want to know more about the iPhones that Apple presented in addition to the iPhone 13 design? You can read all about it in the articles below:
Also read: This is the iPhone 13 Pro (Max): the innovations at a glance
Also read: iPhone 13 officially announced: new iPhone has smaller notch