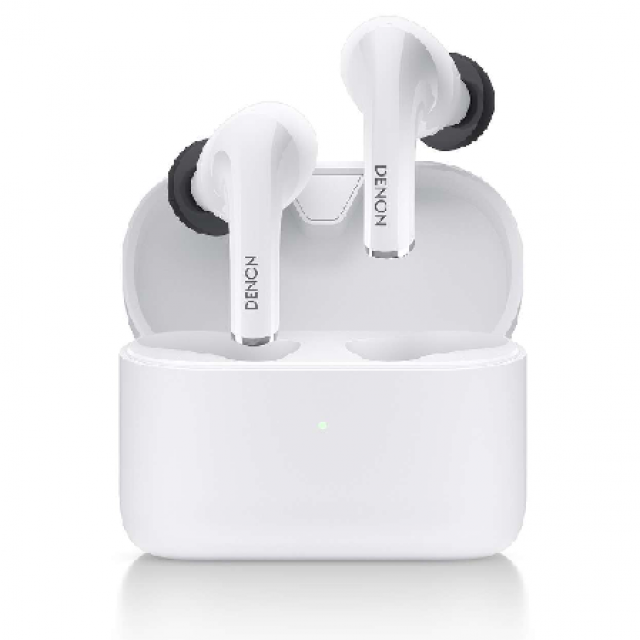 Denon launched its first Noise Canceling in-ear earbuds and Denon wireless in-ear earbuds in November 2021. Read the review of the Denon Noise Canceling in-ear earplugs here.
Denon is known for its good audio products and recently this Japanese audio brand introduced its first Denon true wireless in-ear earbuds, which means that these earbuds are completely wireless. Here you can read the review of the wireless Denon Noise Canceling in-ear earplugs, or noise-canceling earplugs.
Denon Noise Canceling in-ear earbuds
The Denon noise-canceling earplugs come in the colors white and black. Both wireless earplugs have a stem, just like the AirPods, for example. They are small earplugs that weigh only 5 grams each. The charging case weighs just over 40 grams. The Denon Noise Canceling in-ear earplugs (Denon AH-C830NCW) sit well in the ears. Personally, I've always had Apple AirPods, because earplugs with (removable) tips on them never stay in my ears properly. However, this does not apply in this case. Despite the tips, these stay in my ears well.
The Denon Noise Canceling earplugs have a suggested retail price of € 159. These wireless, noise-canceling earplugs may not be the cheapest variant on the market, but they also have many useful functions for optimal sound to both hear and be heard.
Active Noise Canceling
You can easily connect the earplugs to your device by choosing . on your smartphone Settings, thereafter Bluetooth to select and then AH-C830NCW. Because the earplugs have Active Noise Canceling (ANC) with double microphones in each earplug, the quality of the sound is optimal and you can be heard clearly when you call through the earplugs. The moment you put the earplugs in your ears, you immediately notice that ambient noise is reduced.
For example, if you're on a bicycle, you can easily switch the noise canceling and ambient noise mix functions thanks to the transparency mode. All you need to do is tap the touch sensor on the left earbud. The earbuds are set to ANC mode by default. When you click on the touch sensor, it will switch to the function mix of ambient sounds. If you click it again, the functions will turn off and if you touch the sensor again, the sequence will play again.
When you click the touch sensor on the right earbud, you can play, pause, and fast-forward or rewind music. This prevents you from having to reach for your phone while cycling. When you get an incoming phone call, you can answer it by simply tapping the touch sensor on the right earbud twice in succession.
Battery life and charging
These earbuds can last almost five hours on a full battery with ANC on and six hours with ANC off. You will receive a notification when the earbuds are almost empty.
Just like with the Apple AirPods, for example, you can charge these Denon Noise Canceling in-ear earbuds by putting them in the charging case and closing the cover. It takes about two hours for the earbuds to charge from completely empty to 100 percent. You can fully charge the earbuds a total of three times within 24 hours. After that, the charging case is empty and must also be charged. This can be done via the supplied USB charger and all other USB cables or via a USB port on a computer.
The Denon Noise Canceling in-ear earplugs are sweat and splash water resistant, making them ideal for use during sports.
Product: Denon Noise Canceling in-ear earbuds
Recommended retail price: € 159,-
Pros:
+ sweat and splash water resistant
+ great ANC function
+ thanks to the touch sensors, your phone is almost not needed
Cons:
– expensive compared to competition