Do you have an old tablet lying around somewhere? Do not throw away! We show you how to turn an old iPad into a digital photo frame!
Turn your old iPad into a digital photo frame
After years of loyal service, it was time for an upgrade and your old tablet was replaced by a newer model. The old iPad then ends up in a drawer somewhere or ends up in a box in the attic. But even an old iPad that has long stopped getting updates from Apple can give you a second life as a digital photo frame.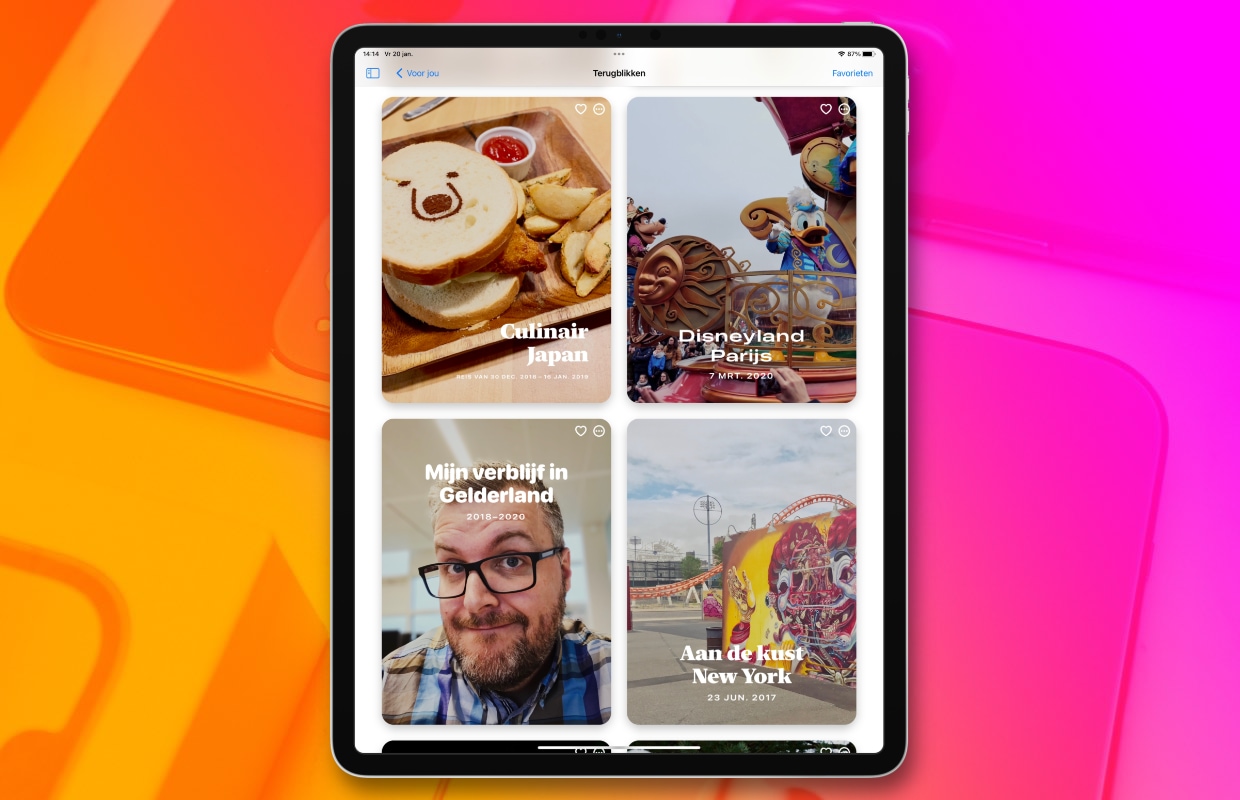 Note: make sure that your old iPad is plugged in. Otherwise, the screen on these older tablets goes black quite quickly. In addition, it is smart to turn off all notifications on your iPad and use a cover so that you can put the iPad down.
Use the Photos app
You don't need any special apps to use your iPad as a digital photo frame. Your iPad's built-in Photos app already has this feature. You can use the Memories your iPad creates in your Photos library by default (in the Photos app, tap the menu button in the top left and go to "For You"). But there is a better way…
Create your own album
But it is more fun and better to make a special album yourself. You do that in the following way.
Create photo album in Photos app on iPad
Open the 'Photos' app and tap the menu button at the top left;

Tap 'All albums' and the plus sign in the top left;

Choose 'New album' and give the album a name;

Add the photos (the more the better);

Open the folder with photos and tap the icon with the three dots;

Choose 'Slideshow'.
Then also tap on the slideshow and on 'Options'. After that you can customize the theme, music and speed. Make sure that you at least turn on the option 'Repeat'.
You can also choose 'Play Memory Video' instead of 'Slideshow', but this option stops after all photos have been shown. So this setting is less suitable for using your iPad as a digital photo frame.
Put down or hang up?
Many iPad cases have the option to put the tablet down. Don't have such a case? Then you can also hang the iPad that you want to use as a photo frame on the wall. You need a wall bracket for that. An example of a good wall bracket for the iPad is the Nedis Tablet Holder (16.40 euros).
Buy iPad
After reading this article, are you done with your old iPad and are you ready for a new one? The regular iPad 2022 is a great choice. Check out our iPad 2022 price comparison. This way you are always aware of the best price!
Want to stay up to date with all Apple news? Then sign up for our newsletter. In addition, download the free iphoned app and keep an eye on our website.
Turn your old iPad into a digital photo frame (and hang it up)

Delete Instagram in 5 steps: this is how you completely delete your account

iPhone tips: three hidden features that are sure to come in handy

New feature WhatsApp (Web): this is how you hide that you are online

No mobile internet while calling with your iPhone? That's how you solve it