Download! Apple has released iOS 17, allowing you to install the update directly on your iPhone. These cool features are coming to your phone!
iOS 17 is out!
It's time to update your iPhone again, because iOS 17 is available to everyone. The update brings cool and, above all, useful features to your iPhone. Your iPhone becomes a full-fledged alarm clock with the new Standby mode and AirDrop has been expanded with NameDrop. We have listed ten new features of iOS 17 for you!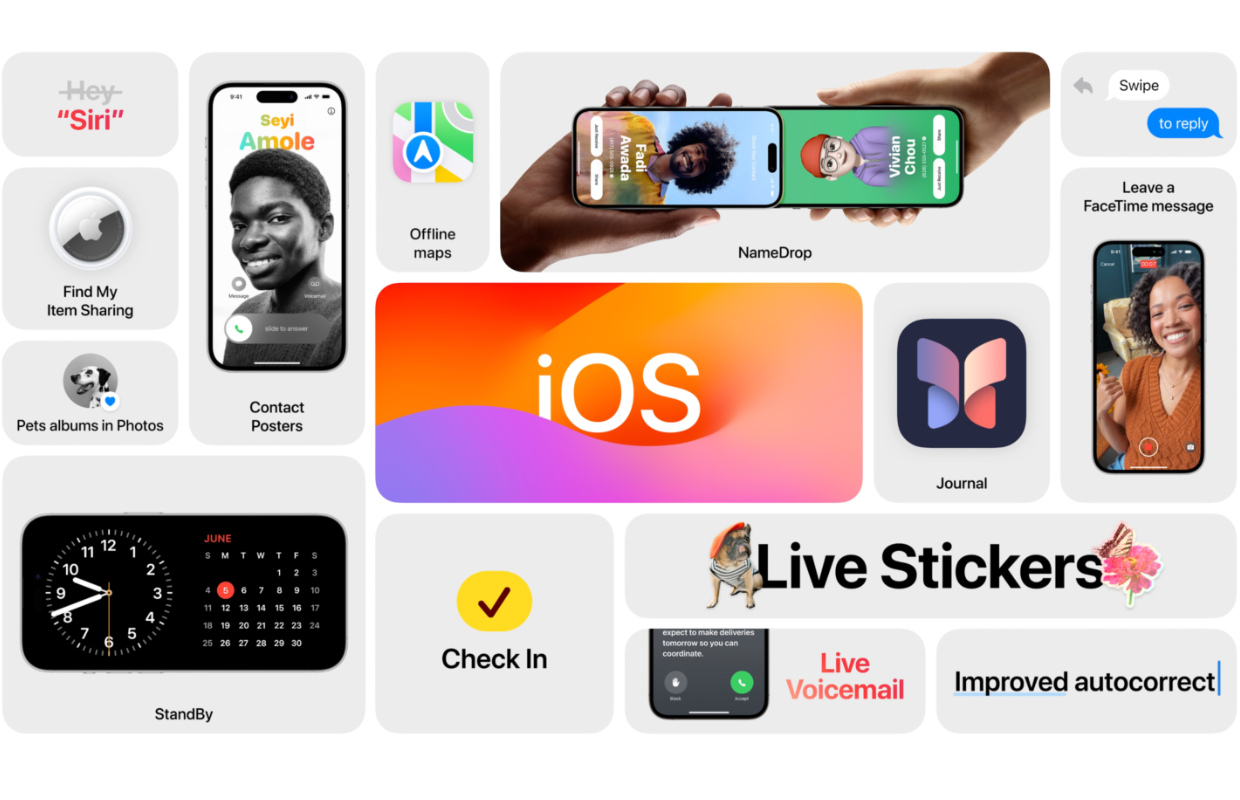 1. New Standby mode
With the new Standby function for your iPhone, you will see full-screen information that is easy to read from a distance. You decide what exactly is displayed on the Standby screen. You can then choose from different widgets, photos, different types of clocks and Live activities. And the good news: the function also works on iPhones without an always-on screen!
Standby is mainly useful for using your iPhone as support in the background. Your phone will soon serve as an alarm clock on your bedside table or as an agenda on your desk. To enable Standby mode, your iPhone must be connected to the charger. Do you have an iPhone 14 Pro (Max)? Then Standby with the always-on display is always active.
2. Receiving verification codes now much more convenient
For many, one of the most useful iPhone functions ever: automatically filling in verification codes. Your iPhone automatically recognizes a verification code that arrives via Messages and then enters the code for you on the corresponding website or page. You no longer have to remember or search for the code.
In iOS 17, this function becomes even more extensive, because your iPhone also recognizes verification codes that arrive via email. Also new in iOS 17: you get the option to set messages and emails with a verification code to be deleted after you have used the code. This happens automatically, so you no longer have to look at those messages.
3. NameDrop makes AirDrop even better
Apple has expanded AirDrop in iOS 17 with NameDrop. The feature is an extension of AirDrop and is intended to quickly share contact information with another iPhone or Apple Watch. You can do this with NameDrop by simply holding the two iPhones together – or an iPhone and an Apple Watch.
As soon as you hold two iPhones close to each other, the contact card of the other iPhone automatically appears on screen. You decide which information is included in your contact card. This is information such as a profile photo, email address and telephone numbers. This makes it much easier to share your contact details. Read all the new AirDrop features coming to your iPhone with iOS 17 here.
4. Record files via Live Voicemail
In addition, Live VoiceMail comes to your smartphone. When someone leaves your voicemail, you will see this live as text on the screen in iOS 17. FaceTime is getting a similar update, which also lets you leave a message. It allows you to take a video and leave it if someone doesn't answer your FaceTime call. Very nice to send a personalized message.
5. Interactive widgets added to iOS 17
Apple mainly mentioned this as a useful feature for the iPad, but the interactive widgets are also coming to your iPhone with iOS 17. The widgets were introduced in iOS 16 and have more options in iOS 17. This way you will no longer have to open an app, but you can perform certain tasks via the widget. Consider crossing off tasks in the Reminders app.
6. More features for Safari
After installing iOS 17, Safari has useful features. Do you share the iPad with your family? Or do you use your iPhone for both work and private use? iOS 17 brings a handy feature to Safari, because you can create multiple profiles in the browser. It will also be possible to hide your IP address and secure your private tabs with Face ID or Touch ID. Read all the new features here!
7. Offline Maps finally available
In addition to Safari, Apple is also significantly expanding Maps in iOS 17. The most important new feature of Maps is downloading maps, so you can also use the app when you don't have internet. With iOS 17 it is then possible to install certain routes on your iPhone. Furthermore, directions have been moved in iOS 17 and electric charging stations have been added to Maps.
8. "Hey Siri" is no more
In iOS 17, Apple chooses to stop using 'Hey Siri' and instead only uses 'Siri'. By stopping with 'Hey, Siri', using the voice assistant becomes even easier and hopefully better. This should prevent the voice assistant from randomly responding to conversations or audio from, for example, the television.
9. Share AirTag with others in iOS 17
After installing iOS 17, it is possible to share the location of AirTags with multiple people. Previously, the transmitter was linked to one Apple ID. From iOS 17 you can share the AirTag with multiple people, so that the location is visible on different devices. This way you can soon share the location of your suitcase, wallet or pet with anyone you want and you will no longer be dependent on one Apple ID.
10. Check-in lets you get home safely
The Messages app in iOS 17 also includes 'Check in', a feature that lets you let friends or family know that you have safely reached your destination. When you activate 'Check in', friends or family members will automatically receive a notification when you arrive. This also requires iOS 17 to be installed on the recipient's iPhone.
If you're getting closer to your destination less quickly than expected, iOS 17 will temporarily share useful information with the selected contact. This information consists of your precise location, the battery level of your device and mobile reception. All shared information is fully encrypted.
Want to know more about iOS 17?
In addition to iOS 17, five major software updates from Apple were released on Monday evening. Apple always releases a series of major updates in the fall, but this year is the first time they have been released at the same time. This means that you can now update many of your Apple devices at the same time. Are you curious about which updates are still available? Then quickly read which devices have received a major software update!
The new software version is now available to everyone and automatically appears in the settings of your iPhone. Read here how to install the latest iOS version yourself, so that you can get started with the new features immediately. Don't have the update yet? Please be patient, because iOS 17 will automatically appear with your software updates.
These iPhones support iOS 17
Unfortunately, iOS 17 will not come to all iPhones, a number of older models no longer support the update. Like every year, these iPhones no longer receive the latest functions, they remain stuck on iOS 16. The devices do still receive security updates, so you don't have to worry about the safety of your iPhone. Read here whether your iPhone supports iOS 17.
Does your iPhone no longer support iOS 17? Or does your iPhone need to be replaced? Then there is good news, because the iPhone 15 can finally be ordered! Be quick, because delivery times for the new iPhone can quickly increase. Check out the best prices for the iPhone 15 here:
Do you want to stay informed about iOS 17? Please sign up for our daily/weekly newsletter. Additionally, download the free iphoned app and keep an eye on our website. Then you'll never miss an Apple news again!