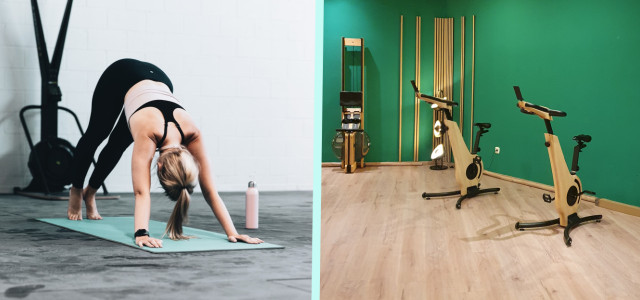 When it comes to sports, fun, movement and strength are the focus – environmental protection less so. But there are gyms that want to act more sustainably. We asked The Good Gym in Munich how fitness training and sustainability can be combined.
When it comes to food, we pay attention to organic quality and we try to take the train, bus or bike to work. In one area of ​​our everyday life, however, only a few pay attention to sustainability: in sports. How can you train in the most environmentally friendly way possible and are there sustainable fitness studios? We visited The Good Gym in Munich and took a look at what founder Britta Degenkolbe does differently than McFit and Co.
Sustainable fitness studio: This is what you need to pay attention to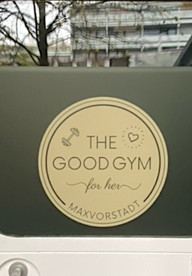 Most people go to the gym to build muscle or do strength training. Under the watchful eyes of trained employees, you can train different muscle groups in a targeted manner.
But such a gym consumes a lot of energy, including equipment and lighting. The showers also need a lot of water. It is all the more important that studios pay attention to their energy and water consumption.
According to the website, The Good Gym in Munich has set itself the goal of "sustainable training with heart and mind". Founder Britta Degenkolbe reveals to Utopia that fitness and the environment are important to her. But with the pressure in the fitness industry to constantly sign new contracts, she was no longer happy. With her 120 square meter small studio in Munich-Maxvorstadt (directly at the university) she wants to offer a framework in which women can train in an environmentally friendly and targeted way.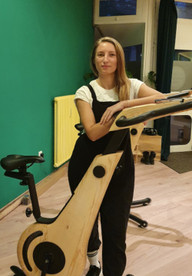 A gym for women only
"The Good Gym caters exclusively to women. Women-specific health issues such as strengthening the pelvic floor or preventing osteoporosis are neglected in conventional fitness studios," explains Degenkolbe to Utopia.
Social sustainability is important to the trainer. That's why she not only offers fitness courses such as yoga, Pilates and boxing as well as a subscription to the studio, but also organizes clothing swap parties and workshops. "My goal is also for the women to support each other and look out for each other outside of the gym," says Degenkolbe.
But that's not all: she wants to combine fitness with charity and offers, for example, a yoga class that collects donations for a children's foundation.
Fitness equipment made of wood, running group instead of a treadmill
A studio can also pay attention to sustainability when it comes to fitness equipment – ​​in terms of materials and power consumption.
At The Good Gym there are speed bikes, weight benches and the like (see picture) made of wood from local, sustainable forestry. Two pieces of fitness equipment come from a studio resolution, the wall bars were also bought used. "The safety of the equipment is important, but many fitness machines are robust and can still be used very well with a general overhaul," says the owner.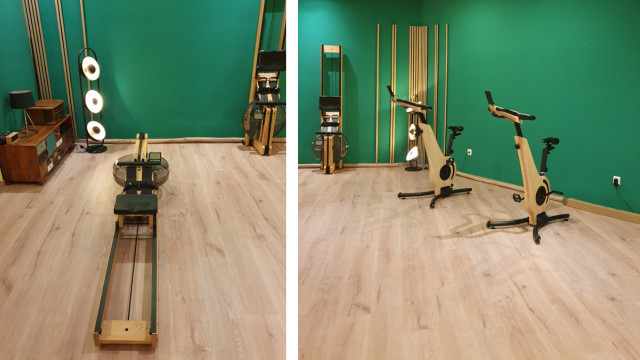 Another special feature of the wooden training devices: They are not connected to a socket and therefore have no screen to enter the level of difficulty and your own fitness data. Individual training is still possible, emphasizes Degenkolbe. You can connect your smartphone to the device via Bluetooth and use an app to track the exercise and set the resistance manually.
The Good Gym deliberately uses fewer machines. "You can also do a lot of strength and balance exercises with a yoga block. We trainers just have to get a little creative," says Britta Degenkolbe.
Is there a more sustainable alternative for every piece of fitness equipment? So far, the studio manager has not found a cross trainer without a power connection or made of environmentally friendly materials. There are also no treadmills in the studio. Instead, she hopes to be able to organize a small running group through the English Garden in Munich in the future.
Generate energy with fitness?
In the Terra Hale fitness studios in London, athletes generate electricity while spinning. We asked Britta Degenkolbe why she doesn't offer this option. She's thought about it, she assures us. But the bikes would have to be constantly used to really generate a relevant amount of electricity. In addition, the two existing devices would not be sufficient for this.
Plant trees for going to the gym
The founder is in the process of implementing a different plan: for every visit to the studio, you collect one point at The Good Gym, and with eight points you can plant a tree. Degenkolbe knows that reforestation is a complex and not undisputed issue.
Feel free to listen to the following podcast episode:
"I am still looking for a suitable partner. The forest or the reforestation area should be easy to reach by public transport in the region and from Munich. I want to go there with the women so that they can experience the impact they can have on site."
Is a sustainable gym more expensive?
If a fitness studio offers training in small groups with certified trainers and with an individual training plan, it has its price. Is that why subscriptions to The Good Gym are more expensive than elsewhere? That depends on which aspects of your training you value: With a subscription period of one year, the weekly membership costs 14 euros (plus a registration fee from 25 euros). That works out to around 56 euros per month. This includes the use of the fitness equipment and all courses offered. It is also possible to choose between a day pass and 5 and 10 course tickets.
For comparison: At McFit, membership for a year costs from EUR 24.90 per month (plus a registration fee of EUR 39). Here you can train throughout Germany, but courses such as yoga, Pilates or HIIT are not included in the price.
Cleverfit offers membership for as little as EUR 34.90. Prices vary for smaller fitness studios with only one branch or studios in only one city.
The sustainable fitness studio The Good Gym is therefore more expensive than cheap fitness chains, but rather inexpensive compared to "high-class" fitness chains in Munich such as Body&soul. At The Good Gym, you can take part in various courses that fitness chains often don't have or that you have to pay extra for. Personal support from certified trainers is often not possible in large studios that have designed their business model for many customers.
Conclusion: Fitness does not have to pollute the environment
Many people still associate fitness studios with loud music, bright fluorescent tubes and flickering TV screens – and correspondingly high power consumption. Concepts like The Good Gym in Munich show that there is a way to be more sustainable. With green plants instead of televisions and a few wooden devices instead of huge high-tech energy guzzlers.
Do you also want to train sustainably? Ask your studio which environmental protection and energy saving measures have already been implemented. Recycled toilet paper, economy shower heads and LED lights are already making a big difference – you can suggest these actions to the operators. Or you look around for smaller, more sustainable fitness studios or train at home with plastic-free fitness equipment.
Read more on Techzle.com:
Exercise when you have a cold: you should know that
Sustainable fitness: 5 tips for a more environmentally friendly training
From the mat to the leggings: 10 sustainable yoga labels