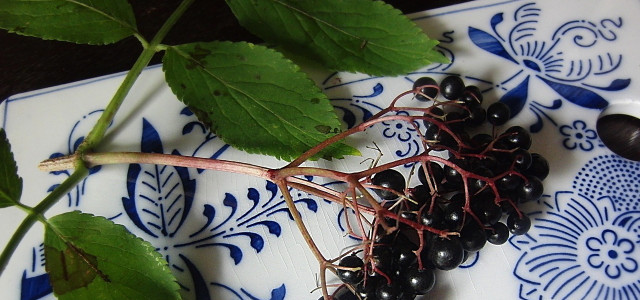 Elderberry juice made from elderberries tastes good, is healthy and is easy to make yourself. Find out more about the nutrients and effects of elderberry juice and how you can make it yourself here.
Elderberry juice is healthy – cold and warm
Elderberries contain important trace elements such as folic acid, iron and potassium. They are best known for their large amount of vitamin C. That's why elderberry is a tried and tested home remedy for colds and colds. You should prepare it as gently and freshly as possible so that the ingredients can develop their full effect.
Naturopathy also refers to the anthocyanins it contains. This substance has an anti-inflammatory effect and binds viruses. That's why it works particularly well against flu viruses, provided you use it after the first signs of a cold.
Both the cold juice and a warm tea can help. If you want it to be warm elderberry juice, then only heat it slightly – under no circumstances bring it to the boil. Excessive heat destroys the valuable ingredients.
Concentrates and powders made from elderberries are said to be even better, because when making juice, some anthocyanins are destroyed by heating and pressing.
So elderberry juice is a good supplement to strengthen the immune system. If you have long-lasting symptoms or severe colds, you should also seek medical advice.
Collect berries for elderberry juice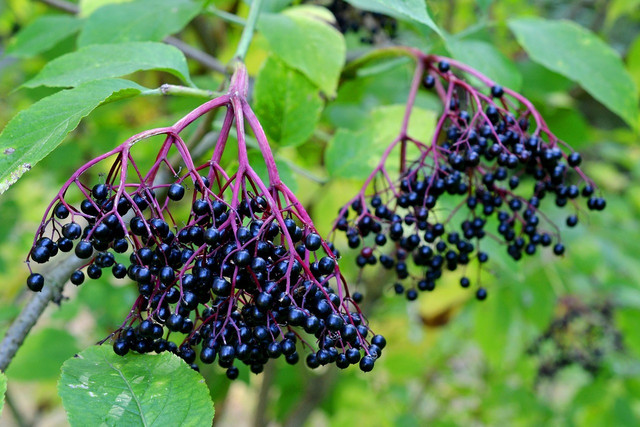 You can make elderberry juice yourself. To do this you first need the berries. Elderberry bushes grow primarily in hedges and on the edges of forests. The berries are ripe when they are deep black; you can pick them from September to November.
There are different types of elderberry:
Black elderberry berries are healthy and edible (but only when cooked).
Those of the dwarf elderberry are poisonous.
A distinguishing feature: The umbels of the black elderberry hang downwards as in the photo, while the poisonous ones point upwards in a warning manner.
In addition, the dwarf elderberries have a small dent and smell unpleasant.
Also read: Elderberries: Be careful, there is a risk of confusion with these berries
It's best to pick the whole umbels and collect the delicate berries in a basket or an old cloth bag, because the berries have a strong color. Since the berries are very delicate, you should process them quickly.
Do not pick elderberries from bushes that are close to the road, as these can be contaminated with fine dust. Animals such as birds also live from the berries. So make sure to pick fewer berries over a wide area on several bushes. In this way you avoid bushes being completely emptied and an important part of the food for forest animals being missing.
Very important: As much as it is tempting to pick them, under no circumstances eat the berries raw! Eating them can cause nausea and vomiting because they contain the toxin sambunigrin. However, this decomposes when heated.
Leaderboard: BPA-free drinking bottles
1st placeKlean Kanteen water bottles
4.8
56
DetailAvocadostore**
place 2Soulbottles
4.8
41
DetailSoulbottles**
place 3Ecotanka Thermotanka
5.0
13
DetailWasser-aktuell.com**
4th placeEmil, the bottle to wear
4.6
69
DetailEmil the bottle**
5th placeNalgene
4.6
36
DetailMountain Friends**
Rank 6BB Bayonix Bottle
5.0
7
DetailGreenpicks**
7th placeMizu
5.0
6
DetailMountain Friends**
8th placeAladdin Aveo
4.6
18
DetailAvocadostore**
9th placeFLSK
4.2
10
DetailFLSK**
Place 10Retap
3.9
17
DetailAvocadostore**
11th placeEqua
5.0
4
DetailOtto**
12th placeDopper
5.0
3
DetailAvocadostore**
Make your own elderberry juice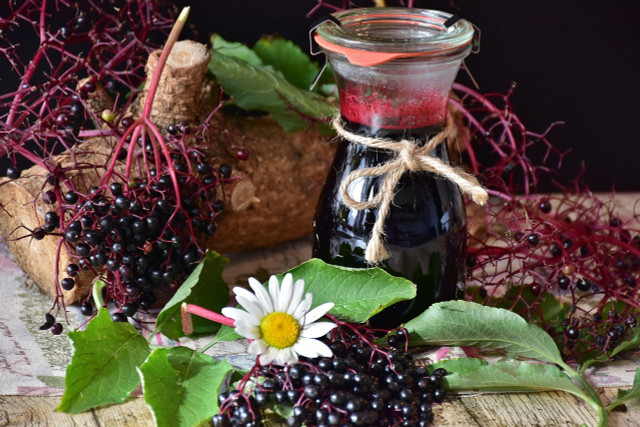 How to make your own elderberry juice:
Wash the elderberries thoroughly.
Remove the berries from the stems with a fork or your hands. Sort out unripe berries and stem remains.
Put the berries in a pot and add about a centimeter of water.
Let the berries cook for about 15 minutes. They should be soft, shriveled and easy to squeeze. Don't cook them for too long, otherwise the important vitamins will decompose.
Filter the berries through an old kitchen towel. The best way to do this is to tie the corners to a second pot and then pour the berries and their liquid on top so that the juice can drip into the second pot.
Squeeze the berry mixture well and let it drain overnight. If you don't mind pieces of fruit, you can also use a liquor lotte (kitchen utensil).
Preserving elderberry juice:
Fill the elderberry juice into bottles or screw-top jars.
Place the jars in a pot of water. They must be two-thirds covered and must not come into direct contact with the bottom of the pot (a tea towel or grid helps).
Let everything simmer gently for about 30 minutes (it should be about 70 degrees Celsius).
Once cooled, you can remove the jars or bottles from the pot. It is best to store the elderberry juice in a dark, cool place.
If this is too time-consuming for you, you can also buy ready-made elderberry juice. Recommended manufacturers:
Leaderboard: The best organic juices
1st placeRewe organic direct juices
4.8
9
detail
place 2Alnatura fruit juices
4.8
25
detail
place 3Rotbäckchen fruit juices
4.7
15
detail
4th placeVoelkel fruit juices
4.7
15
detail
5th placeEdeka organic juices
5.0
5
detail
Rank 6Perger juices
5.0
3
detail
7th placeAronia Original direct juices
5.0
1
detail
8th placebasic juices
5.0
1
detail
9th placeBagsbacher fruit juices
4.7
3
detail
Place 10Dennree fruit juices
4.6
5
detail
11th placeRabenhorst juices
4.6
5
detail
12th placeEos organic fruit juices
0.0
0
detail
You can also process the juice into jelly, for example together with apples, pears, plums or limes.
In early summer you can easily make your own elderflower syrup from the flowers.
Read more on Utopia:
These regional superfoods won't cost you a cent
6 herbal home remedies for colds
8 wild herbs that you can collect in autumn
Stay on op - Ge the daily news in your inbox