With iOS 17, your favorite album covers come to life, but it's possible to return to still images by following these few steps.
Apple has given a little facelift to the presentation of albums in iOS 17, with the possibility for artists to immerse you a little more in their musical universe. To do this, the latest major operating system for the iPhone and iPad offers you a new option, allowing the "Music" application and Apple Music to display animated covers.
Not all albums today offer this type of animation, but the greatest international artists have not been asked to accompany their latest albums with animated covers. This is the case, for example, of Taylor Swift's latest records, or even the latest effort by the Rolling Stones.
On iOS 17, the cover goes beyond its usual frame to cover the entire music control screen. Certain elements of the illustration are thus animated to give a more original side and a more intense musical and visual experience.
While we really like this presentation, some users may not be as enthusiastic as us and want to go back to the good old cover, for practical reasons or to avoid too much mobile data consumption. Apple therefore offers them to return to the initial behavior, in a few clicks. We will explain the procedure to you.
How to disable animated cover art in Music on iOS 17?
To access the settings of the "Music" application, you must first go to the "Settings" applications of your iPhone or iPad. Then scroll through the list of options provided to find "Music", then click on it.
2. Find the "Animated Cover" option
Once in the settings list of the "Music" application, scroll to find the "Animated Cover" option (it is located approximately in the middle of the page). Then click on it to access the settings for this feature.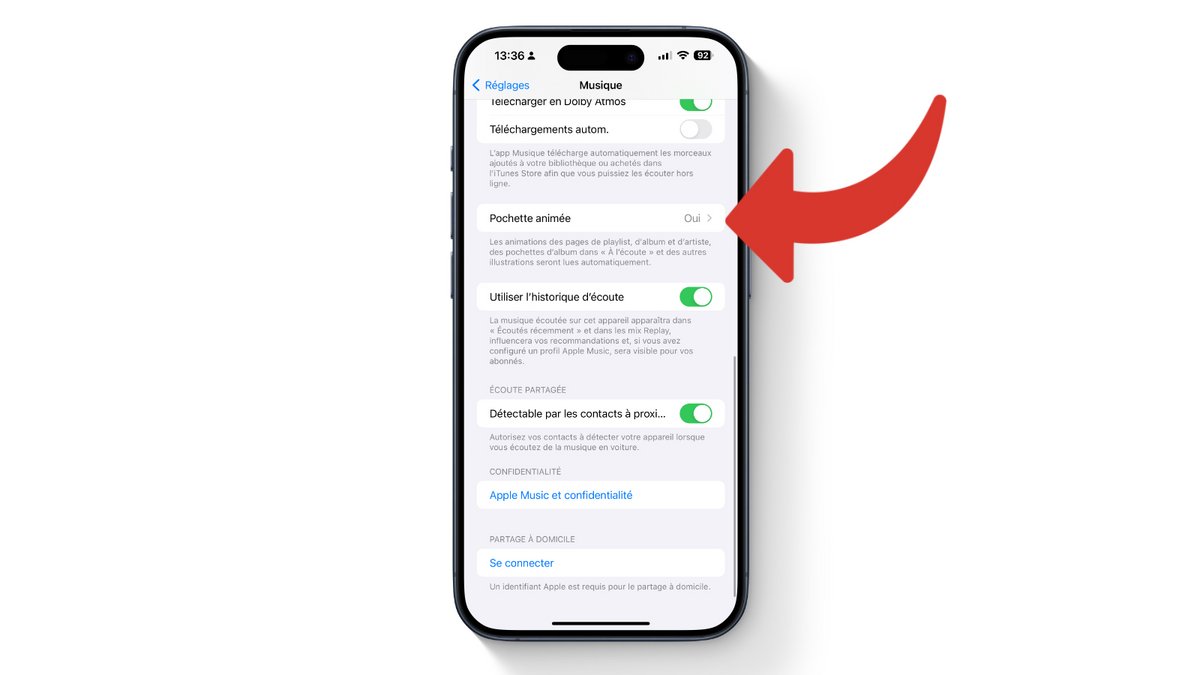 3. Turn off the "Animated Cover" option
Click the "No" button to disable animated cover art. If you want to keep this setting, but you have a small data envelope, iOS 17 allows you to opt for something in between. Instead, click on the "Wi-Fi" option to only see these animated covers when you are at home, or connected directly to an Internet box.