Do you have iOS 17 and want to set a new wallpaper on your iPhone? We will tell you step-by-step how to do this most easily.
Set iPhone wallpaper in iOS 17
You can make your iPhone extra personal by setting your own wallpaper on your lock screen. In iOS 17, setting an iPhone wallpaper is very easy, but you need to know where the option is. No worries! We explain exactly how you can adjust the background on your Apple smartphone to your liking!
Adjust background
By default, your iPhone has different wallpapers that you can set. If you want to use your own photo, that is of course also an option. You must make sure that the photo you want to use is already in the Photos app on your iPhone. Then follow the steps below.
Set iPhone wallpaper in iOS 17
Tap 'Settings', scroll down and choose 'Wallpaper';

Choose the option '+add new background';

Tap 'Photos' and choose one of your own photos;

By tapping the clock you can adjust the font and color. Then close the window by tapping the cross;

Tap 'Add widgets' and choose the widgets you want to place. Close the window with a tap on the cross;

Then tap 'Add' at the top right;

Choose 'Set as background pair'. You can also choose 'Customize home screen' to set a different photo for it.
Please note: if you choose to add widgets during step 5, it will not be possible to use the 3D effect of the photo. For example, you will not see that parts of the picture are placed 'in front of' the clock.
More about iOS 17
iOS 17 has been available on your iPhone since September 18. This new version of Apple's operating system brings with it quite a few features. There is now the new Standby mode. This allows you to use the phone as an alarm clock on your bedside table or as a calendar on your desk. To enable Standby mode, your iPhone must be connected to the charger
Apple has expanded AirDrop in iOS 17 with NameDrop. The feature is an extension of AirDrop and is intended to quickly share contact information with another iPhone or Apple Watch. You can do this with NameDrop by simply holding the two iPhones together – or an iPhone and an Apple Watch.
There are now also interactive widgets. This way you will no longer have to open an app, but you can perform certain tasks via the widget. Consider crossing off tasks in the Reminders app.
The Maps app has been updated and you can now use them offline. Safari has more features and you can now share the AirTag's location with others. Want to know more about iOS 17? Then read the article below.
Read more: iOS 17 is available to install – these cool features are coming to your iPhone!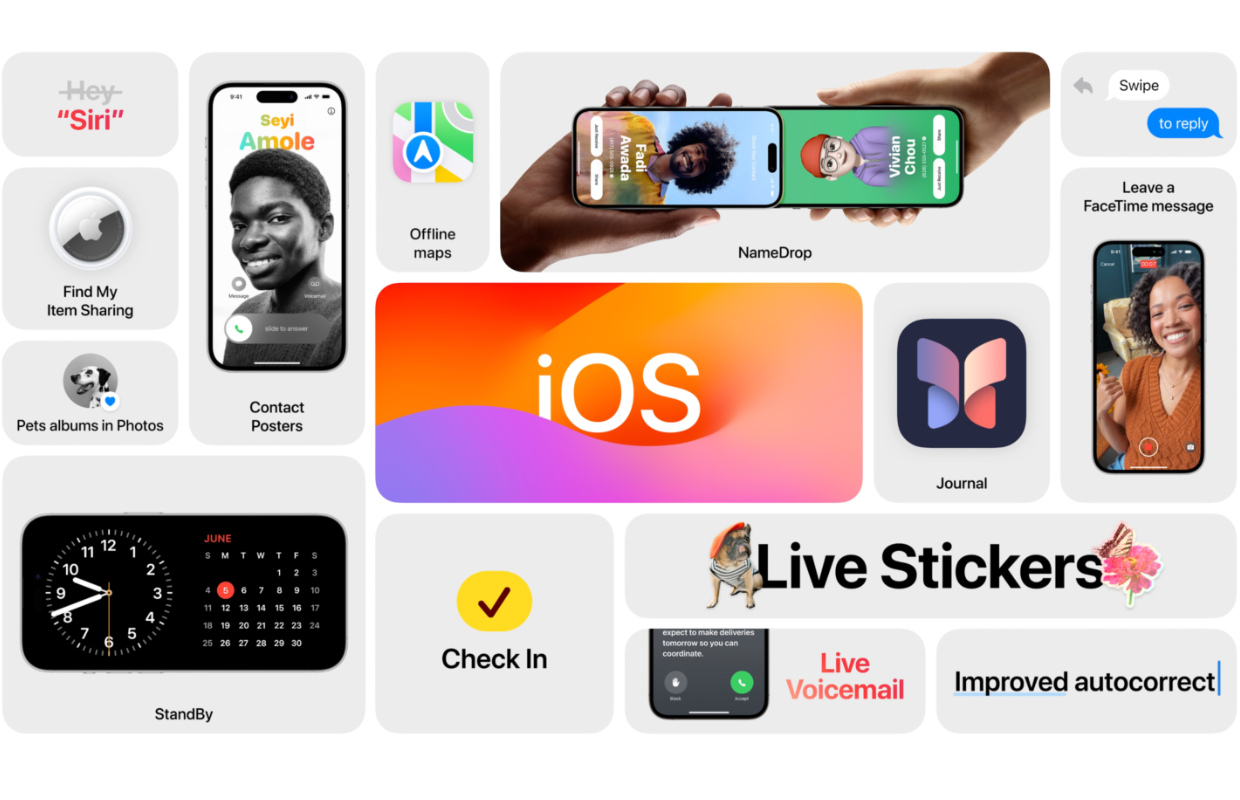 The latest news about Apple
iOS 17: Set iPhone wallpaper (here's how)

iOS 17 can be installed: these cool features are coming to your iPhone!

watchOS 10 is out! This is new on your Apple Watch

Smart thermostat from tado: now extra cheap

iPhone 15 Pro (Max): This useful feature is gone forever