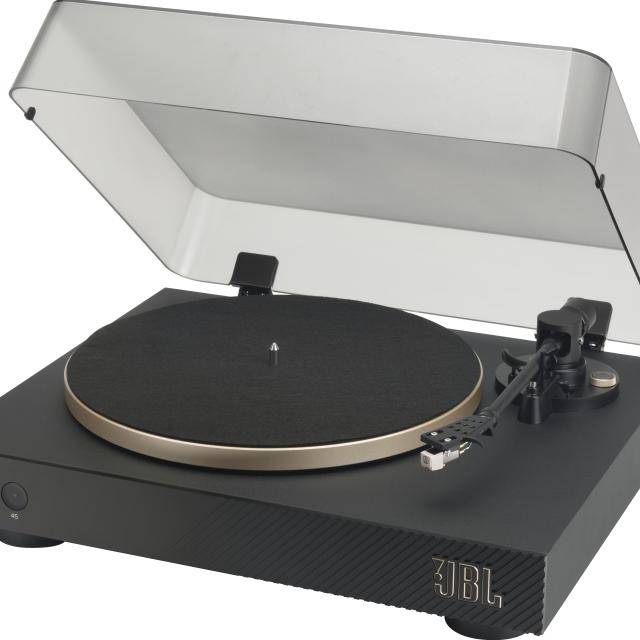 JBL comes with the Spinner BT wireless record player that you can easily connect to speakers, soundbars and headphones. According to JBL, this allows you to enjoy your favorite vinyl without sacrificing sound quality.
Vinyl has been on the rise for a few years now and I can appreciate that. Many older readers (of my generation) used to save up for a stereo tower, consisting of a (tuner) amplifier, speakers, cassette deck and record player, and have enjoyed it for years. Fortunately, more and more young people are also appreciating records. Partly for this reason, JBL is now launching the versatile JBL Spinner BT Bluetooth turntable, a turntable that does not produce any sound itself.
JBL Spinner BT
The sleek design consists of an aluminum platter and tonearm, a black MDF base with gold or JBL orange accents, a contemporary front and a hinged dust cover.
The JBL Spinner BT is easy to connect to portable speakers, soundbars and headphones via Bluetooth for wireless vinyl playback. The aptX HD encoding ensures that the authentic sound of records is preserved. For a wired connection, the turntable has an analog output with an adjustable moving magnet phono stage, ideal for use with both traditional component audio systems and self-amplifying speaker systems.
Speeds and sensor
The Spinner BT's speeds are locked with a speed sensor, ensuring correct timing when playing records at 33 1/3 rpm for LPs and 45 rpm for EPs and singles. This ensures correct pitch from the belt-driven aluminum turntable. The tonearm features a high-quality Audio Technica moving magnet cartridge that is pre-installed on a removable headshell for easy replacement and upgrades. The feet of the turntable are damped to reduce vibrations that can affect the records.
"The JBL Spinner BT reinforces the joy that music and vinyl bring," said Carsten Olesen, President of Consumer Studio at HARMAN. "With Bluetooth 5.2 technology, the record player offers its users a direct wireless connection to their record collection and gives them the opportunity to listen to their albums without losing the authentic sound of vinyl. And with its analogue output and integrated phono preamplifier, the JBL Spinner also suits purists who prefer a wired connection."
Specifications JBL Spinner BT record player
• Bluetooth including AptX-HD – Quickly connect to your Bluetooth speakers or headphones for instant access to your record collection. Thanks to AptX-HD encoding, there is no loss in sound quality.
• High-quality components – The high-quality aluminum tonearm provides excellent tracking of the grooves on the record, without wearing them out.
• Removable headshell – The end of the tonearm, where the cartridge is mounted, is called the headshell. This is removable, making it easy to replace and upgrade the cartridge.
• Aluminum turntable and belt drive – The aluminum turntable is powered by a belt drive and motor with an optical sensor underneath to ensure your records play perfectly at the right tempo at 33⅓ rpm for albums, or 45 rpm for EPs and singles.
• High-quality pre-installed moving magnet cartridge – The JBL Spinner BT is ready to use out of the box with the high-quality cartridge already installed and aligned.
Price, colors and availability
The JBL Spinner BT will be available from mid-November in black & gold and black & orange for €399.99 via JBL.nl and selected retailers.