Google Maps makes life just that little bit more pleasant: for example with a function to send a monthly overview of the distances you have covered. Unfortunately, such features come with some restrictions on your privacy. If you don't want Maps to store your location data, you can go through life incognito. You can read how that works in this article.
Incognito in Google Maps
Google added the insights tab to the timeline feature in Maps last year. In this tab, Google shows insights about the activities you have undertaken in recent months. You can read how often you visited a restaurant, slept in a hotel or how long you sat in public transport. Maps uses your location data to collect the insights. Bottom line, this produces a gigantic mountain of data, the uses of which can be infinite for the search giant.
With a company like Google resting on this mountain of data, it is important to think twice whether you want Google to be able to automatically collect and process such data. You can delete the data from the timeline, but that will not solve the problem in the long run. Fortunately, the importance of privacy has now penetrated the search giant and you can keep the location data of the Google servers by using Maps in a so-called Incognito Mode to use. After you turn on the mode, the information below not more saved:
Browsing and Search History is no longer stored in your Google account;
Location data are no longer stored; Mind you, this also has an impact on you shared locationsthey will no longer be updated after enabling incognito mode.
Google also says it will no longer use your activity to personalize Maps. Incognito mode works similarly to modes in browsers such as Chrome, Edge, Firefox or Safari, which usually cause your browser to store less tracking data and other personal attributes. It usually doesn't work flawlessly, but it already offers a first protection against the gigantic data collection of tech giants.
Enable Incognito Mode
Navigating incognito in Google Maps is very easy. Below are the steps to enable the mode on your Android phone.
Open the Google Mapsapp
Click your in the search bar at the top right profile picture
Select Turn on Incognito mode
Finally click Closethe mode is then enabled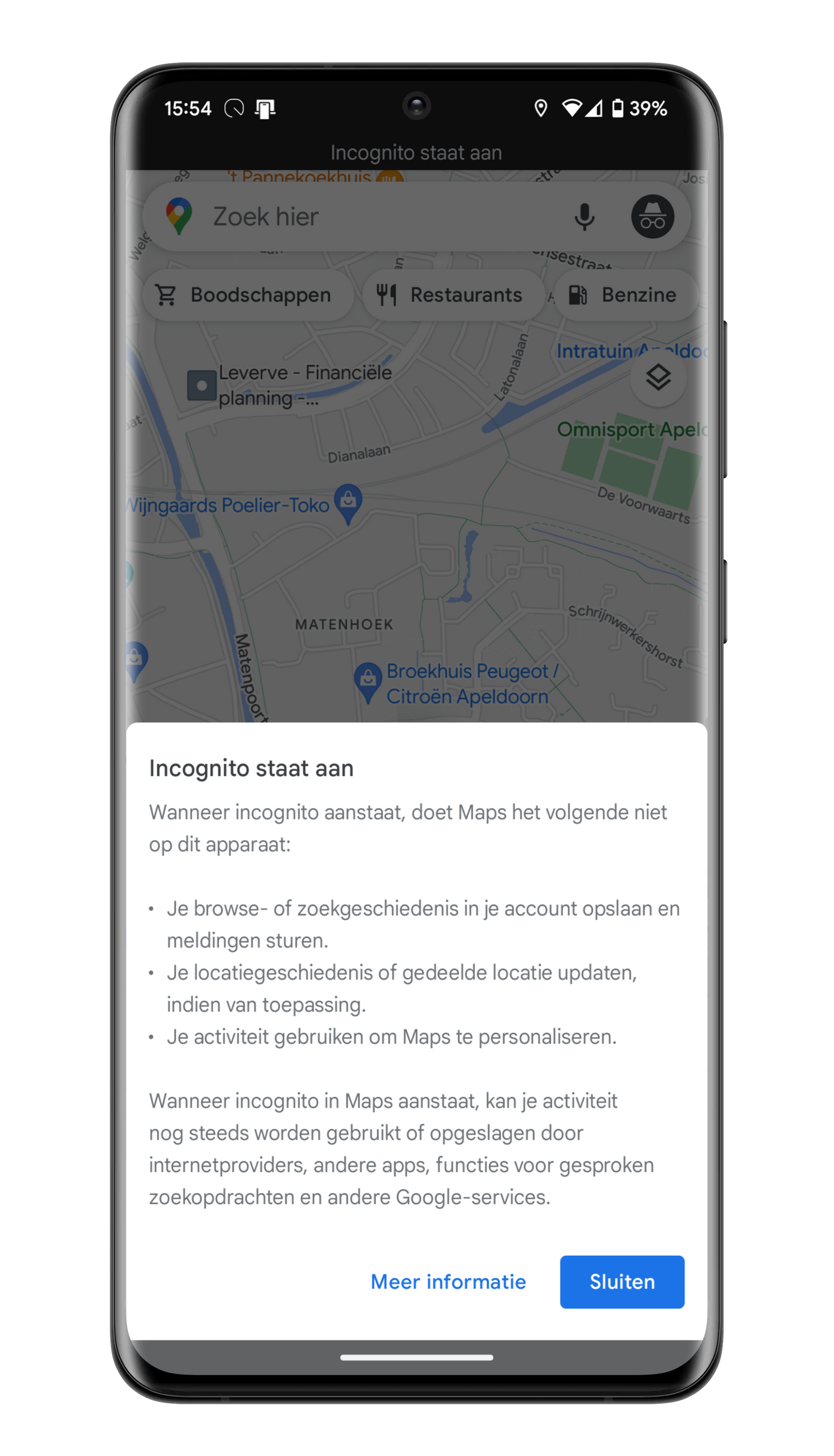 As indicated, the mode remains active after closing the app. If you want to disable the mode, click on the incognito icon in the top right corner of the search bar. Then select the option to turn off incognito mode. When you turn incognito mode on and off, the app will restart itself, so you don't have to take any further actions.
Do you have any tips or ideas?
Androidworld is the largest Android community in the Netherlands and Belgium. So we do this together! Do you have a question about the topic we discuss during the theme week or do you have ideas or tips? Then let us know in the comment. You can also email us at this email address or leave a message at Facebook, Instagram and Twitter. You can also ask us questions via this Telegram group. Would you rather send one of the editors a tip? Then you can!
– Thanks for information from Androidworld.