Apple is not idle and a few days after the release of iOS 17, the manufacturer is already offering the first beta version of iOS 17.1, the first update of this new version of the operating system. And you too can discover the new features coming to the iPhone before anyone else. We'll explain the procedure to you!
If you have an iPhone, you already know that iOS 17 is a big update. For those who have not yet upgraded, we invite you to discover all the new features present in iOS 17, such as the StandBy functionality, but also all the hidden tips which should improve the system even further. using your smartphone.
In just a few weeks, the Californian manufacturer will offer iOS 17.1, the first major update of its new operating system, and here again, Apple will make numerous improvements, to which we returned very recently.
Currently, iOS 17.1 is available in beta and good news: you can be one of the first to try these new features by installing the update on your phone. You just need to follow these steps, and take a few minutes to benefit from them, but also to inform Apple of your comments and any bugs encountered.
How to install iOS 17.1 beta on your iPhone?
First of all, it is imperative to back up your data to avoid losing your photos, videos, contacts or even your messages in the event of a problem.
To do this, go to the "Settings" application, then to the "iCloud" tab. Then click on "iCloud", and finally on "iCloud Backup". If backup is already activated, click on "Back up now" and wait a few minutes for your data to be securely transferred to your online storage.
You can also use a Mac or your Windows PC with iTunes to make a copy of your data locally. Connect your iPhone to your computer using a Lightning or USB-C cable for iPhone 15 and iPhone 15 Pro. In Finder on Mac, or in iTunes, then access your iPhone settings in the left column.
You can opt for an encrypted backup, which will allow you to keep your health data. Then click "Encrypt local backup" and choose a password when prompted.
Finally click on "Back up now" to start copying your data. The operation takes several minutes to complete.
2. Go to your iPhone settings
To install the beta of the next operating system, you must first go to the "Settings" application on your iPhone. Then click on "General", and finally on the "Software update" section.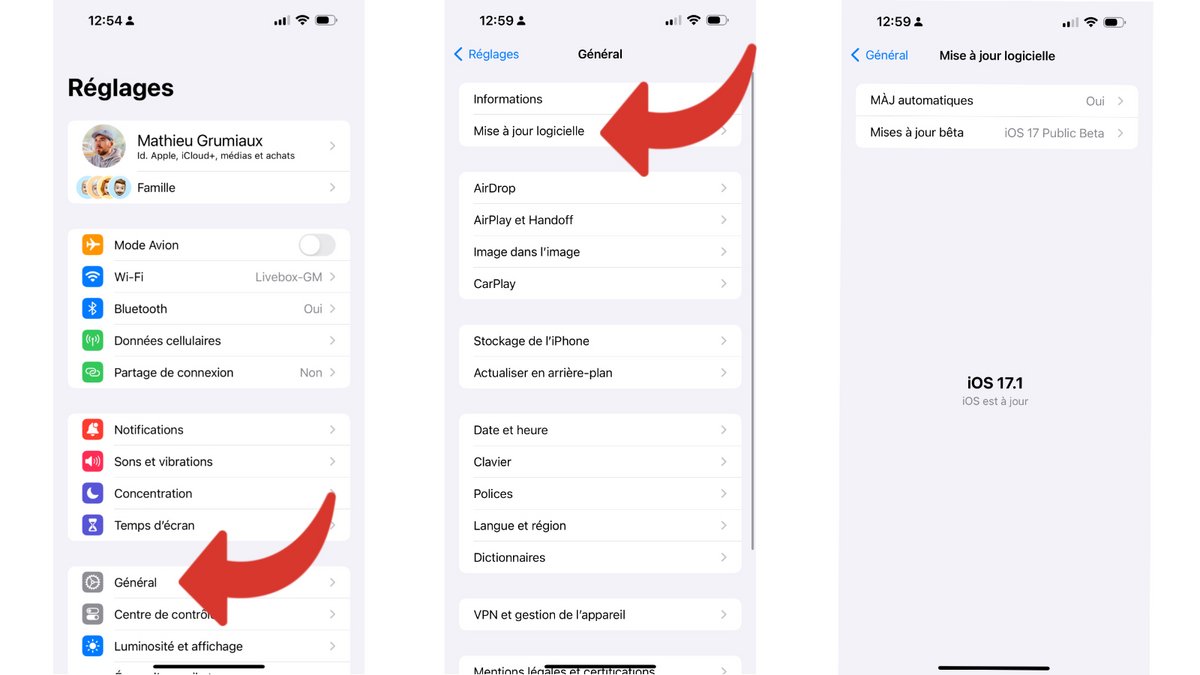 3. Change the update mode to get beta versions on your iPhone
By default, the iPhone only retrieves so-called public versions of iOS, that is to say those offered to the general public, after several weeks of testing. To change update channels and receive trial versions, click "Beta Updates".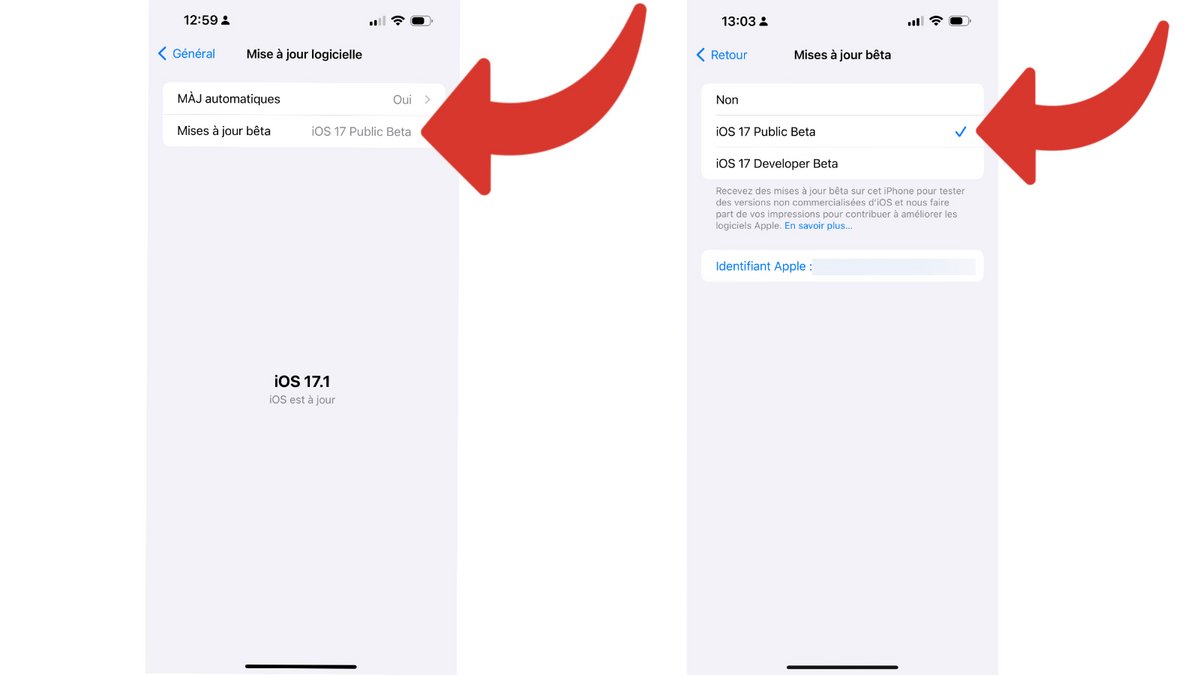 There are two options available to you, namely "iOS 17 Public Beta" and "iOS 17 Developer Beta". "iOS 17 Developer Beta" is a version distributed in preview to developers, and may contain bugs and cause some battery life or heating problems. We therefore invite you to select the "iOS 17 Public Beta" option. These versions are more secure, and should cause you fewer difficulties when using your smartphone.
4. Install iOS 17.1 Beta Update
Then return to the previous screen. You will see iOS 17.1 appear upon download. Click "Update" to start downloading and installing the update. The operation may take a few tens of minutes at most, depending on the age of your iPhone and the quality of your Internet connection. Your iPhone will restart several times during the procedure.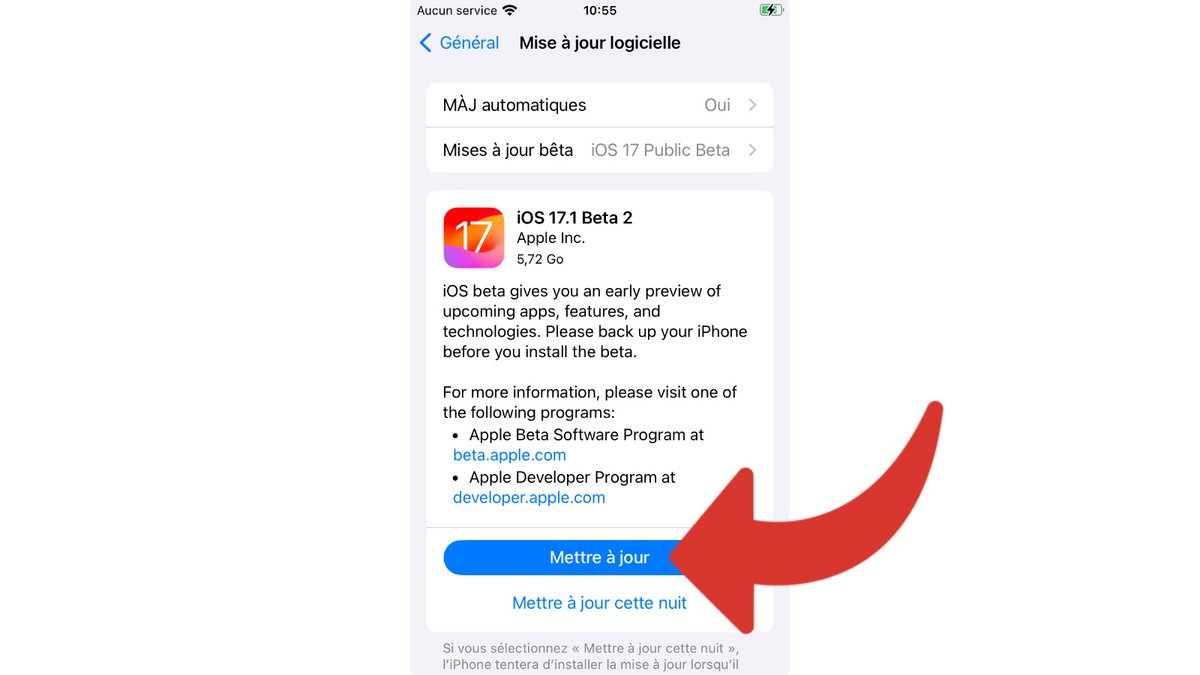 If you don't have time, you can also click "Update Tonight". iPhone will install overnight if your iPhone is plugged into a power outlet, or charged on a wireless charging station.
How to stop receiving iOS 17 beta versions?
If, after trying the new features of iOS 17.1, you want to return to the public version of iOS 17 and no longer receive future beta updates of the operating system, a simple manipulation is enough to reconnect to the public channel of updates.
1. Access your iPhone settings
Open the "Settings" application on your iPhone, then click on the "General" tab and finally on the "Software Update" section.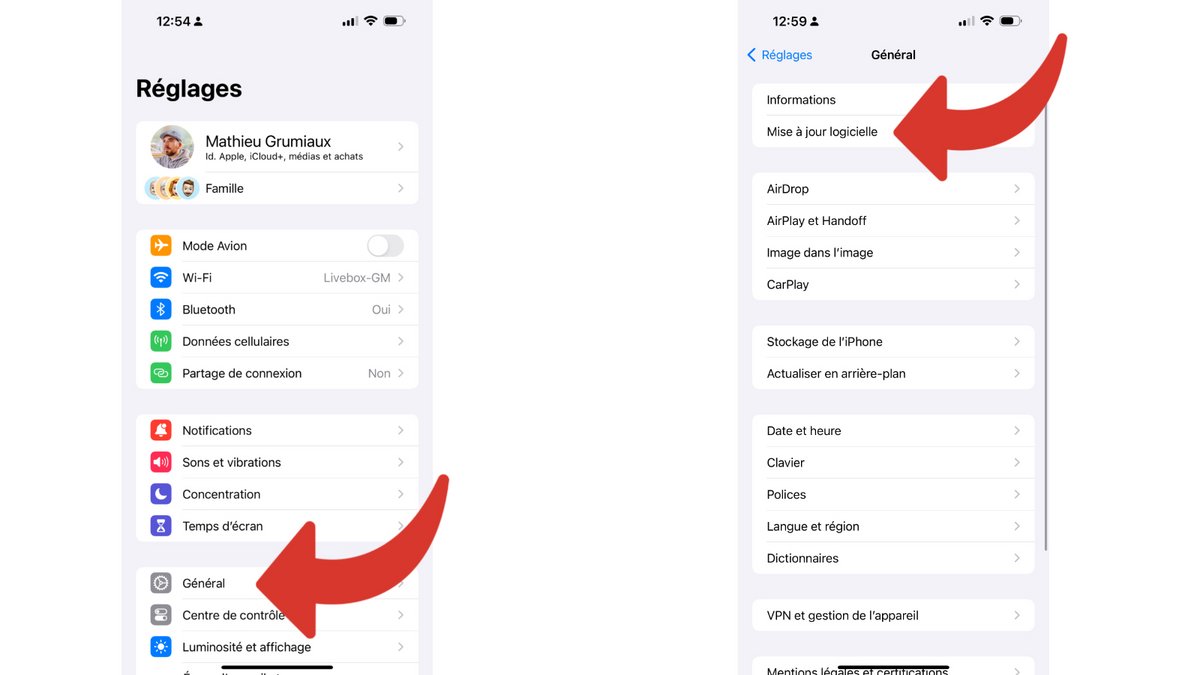 2. Change the updates channel
Then click on the "Beta Updates" section. In the window that appears on the screen, then click "No". Then go back, using the "Back" button at the top left of the screen. You will no longer receive beta versions of iOS 17, but only versions intended for the general public and tested by Apple before publication.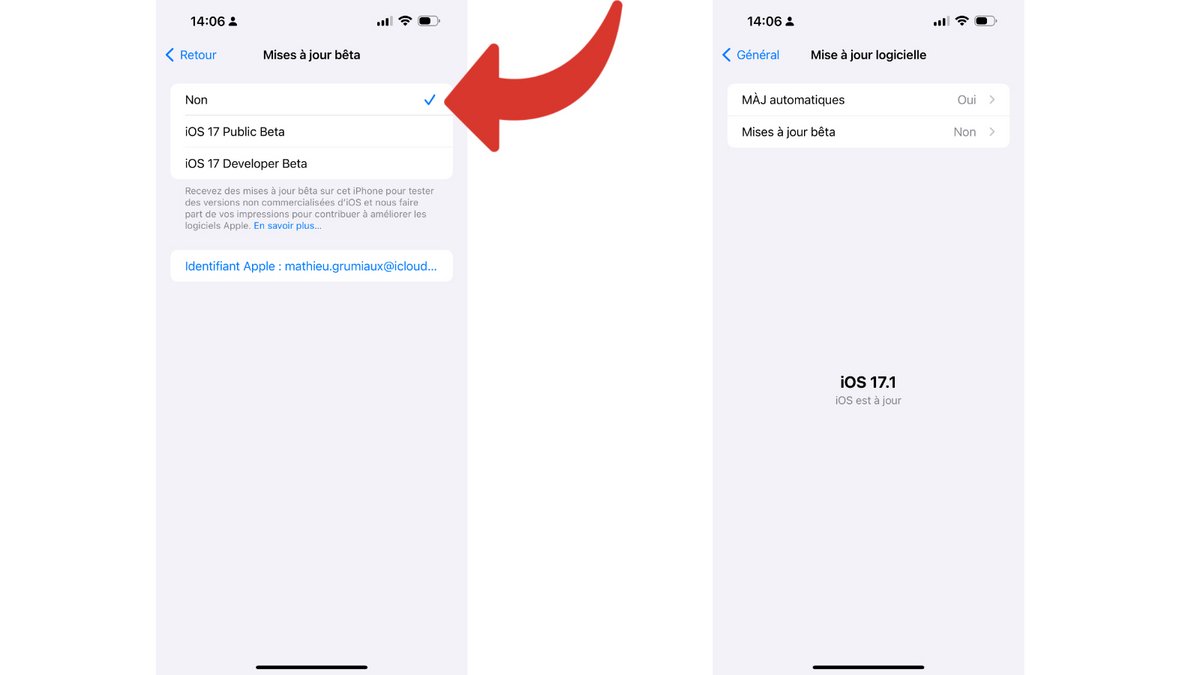 How do I revert to the public version of iOS 17?
Installing a beta is not without risks, and these trial and evaluation versions have their share of problems of all kinds. Bugs that are sometimes blocking for daily use, third-party applications that refuse to work correctly, overheating of the phone or even falling battery life are among the most common problems, and are not corrected for several weeks by Apple's teams.
If you want to find an iPhone that works correctly, with greater battery life and without bugs, here's how to return to the public version of iOS 17.
1. Connect your iPhone to your Mac or PC
Plug your iPhone into your computer, using a Lightning or USB-C cable, depending on your smartphone model.
2. Put iPhone into recovery mode (DFU)
On iPhone 8 and above (models with Face ID and iPhone SE), press the Volume Up button, then the Volume Down button, and finally, press and hold the Side button (on the right of the iPhone). Do not release the button during operation. After the Apple logo appears on the screen, hold your finger again until you see an image of a Lightning cable and a computer. Your iPhone is in recovery mode, you can release the side button.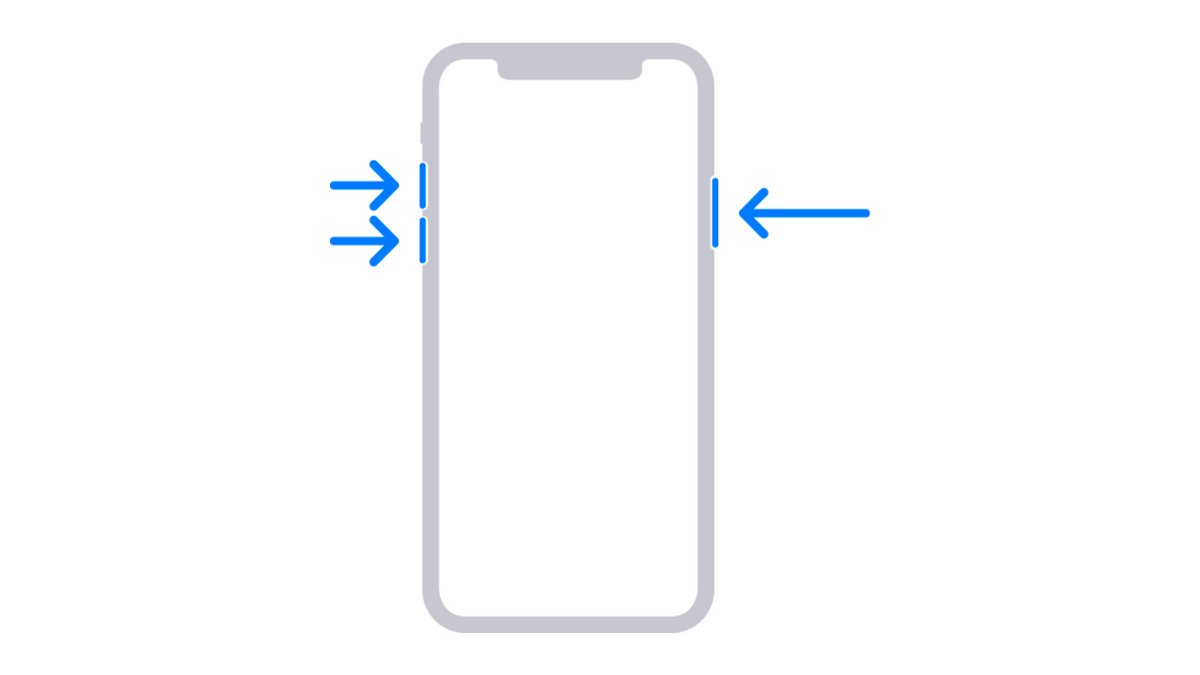 Once iTunes or Finder detects your iPhone in recovery mode, you will be offered the option to restore your iPhone. Then click on "Restore". The PC or Mac will format your iPhone's memory and automatically download the latest public version of iOS 17.
Wait a few minutes while the operating system installs. The iPhone restarts, and you can then start with a data-free iPhone, or import your local backup, or downloaded to iCloud, to recover your applications and data.