Hostinger offers a wide range of web hosting plans, most of which also include a free domain name. In this article, we will look at how to benefit from this offer and which accommodations are affected.
Hostinger is one of the best web hosts available in this market. Present in this sector for 12 years now, the Lithuanian host has managed to build customer loyalty through a comprehensive and quality service. It is therefore possible to find any type of web hosting on the platform, ranging from shared to cloud hosting including WordPress hosting. If you want to create a completely new site, you will then need to choose a domain name. The latter will give your site a more professional appearance which will inevitably reassure your visitors. This element is essential in your conquest of the web, especially if you want to have a site that lasts over time. With Hostinger, you no longer need to worry about the price, since a (very) large part of their offers offer a domain name completely free for a period of one year.
Hostinger: hosting plans for a free domain name
Hostinger offers most of the web hosting offers available on the market, some are eligible for the offer of the domain name offered and others are unfortunately not. Beyond these recommendations, always remember to carefully check the validity conditions for each of the offers present, as prices are likely to change, particularly in this strong inflationary context.
Shared web hosting from Hostinger is certainly one of the most popular offers in this sector. These packages have many advantages, such as affordable prices for more than reasonable performance, representing the perfect quality-price ratio for the launch of a new site. Hostinger has three plans at this level, namely: single, premium and Business. To benefit from a free domain name, you will need to select either the Premium or Business hosting offer, the entry-level plan not being eligible.
These two offers integrate multi-site management, with hosting of a maximum number of 100 sites. The major difference between these two plans lies in the SSD storage available as well as the features present such as the WordPress testing tool (present on the business and not on the Premium).
If you opt for one of these two solutions, you will have the possibility of having a domain name for free worth 9.99 euros, which includes the main extensions, namely (.fr, .org, . com).
Hostinger WordPress hosting plans

WordPress hosting from Hostinger is also very popular. In fact, the host offers no less than four offers in this segment. These plans include one-click installation of your WordPress interface as well as more than useful options for managing your sites.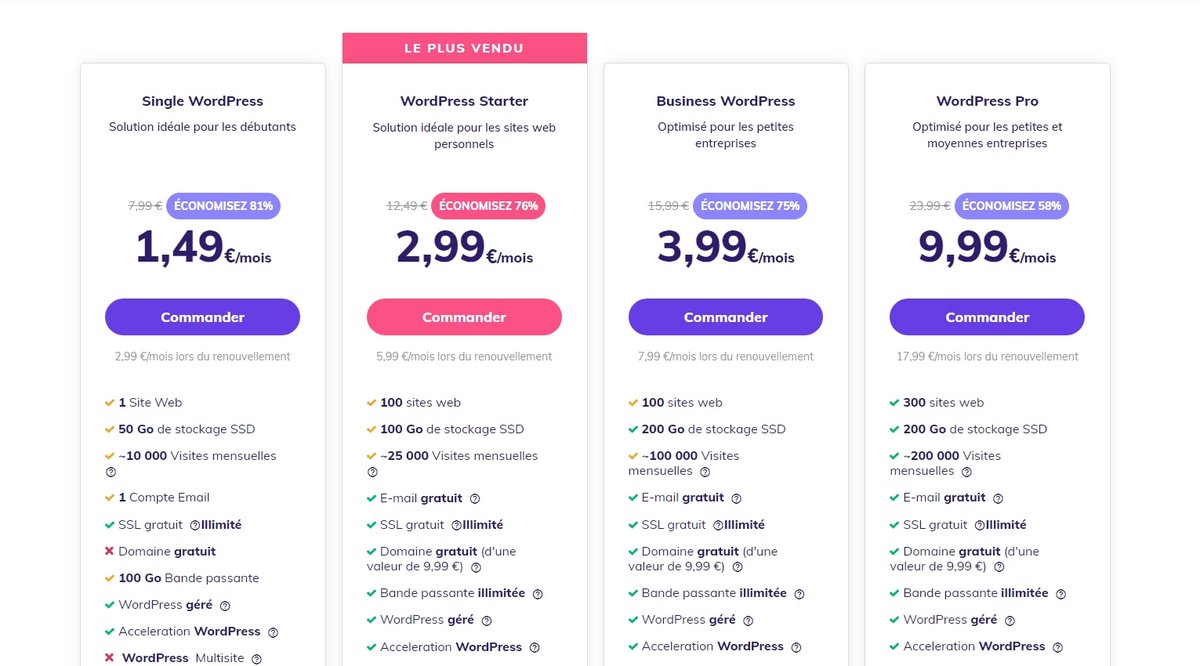 Same principle as for shared hosting, you can benefit from a domain name offered on all offers, except the entry-level one, namely "Single WordPress". For the following three plans: Starter, Business and Pro, a domain name worth 9.99 euros will be offered to you.
These offers include hosting for up to 300 sites (pro plan), SSD storage ranging from 100 to 200 GB and unlimited bandwidth. Viable solutions to build your network of sites at an affordable price.
Cloud hosting at Hostinger, as with other providers, is often considered the next level up to shared hosting. With this type of resource, your site better manages traffic peaks and becomes much more scalable in its resources, than on more traditional shared sites. Based on this premise, we note that the prices will therefore be higher than for shared hosting.
Hostinger provides three offers: Startup, Professional and Enterprise, varying from 9.99 to 49.99 euros/month with commitment.
All of these offers unlock the free domain name, which will always be worth 9.99 euros. In terms of server resources, we are moving upmarket, with a total capacity of 300 sites for all offers and RAM ranging from 3 to 12 GB.
If you have resource-intensive sites and want to manage possible peaks in volume, Cloud hosting and its free domain name will be an excellent choice.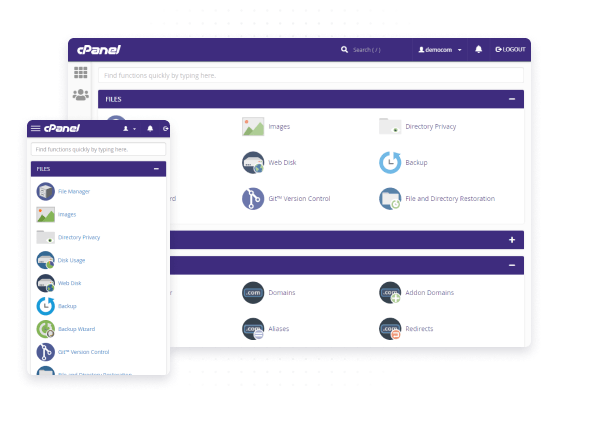 cPanel is the most used website administration interface in the world. The reason for its success is largely due to its ease of use. Hostinger therefore makes the use of this tool available to its users, in hosting offers intended for this function.
These two plans, called cPanel Silver and cPanel Gold, give you access to this interface and the management of 50 and 100 websites respectively. From a server resource point of view, we have storage ranging from 30 to 50 GB on SSD disk and a bandwidth this time limited to 1 TB.
cPanel hosting plans do not have a domain name offered when subscribing, so you will have to go through another purchasing service to obtain one.
Extensions eligible for the free domain name offer

Hostinger therefore offers a wide choice of offers which give access to a free domain name worth 9.99 euros/month, for 1 year. As the amount is set at 9.99 euros, some of the expired domain names will not be available with this type of offer, because they are more expensive. However, with this price, Hostinger opens the doors to the majority of extensions used, if not all. You can obtain a domain name by:
.Fr,

.com,

.org,

.net

.eu,

.online,

.X Y Z,

.shop,

.live,

.digital,

.tech,

.E-mail,

.site,

.space,

.website,

.store,

.uno,

.host,

.fun,

.press,
The choice of your extension will be important for the SEO of your site. A .fr extension will be more dedicated to a site located in France, a .org will be for an organization and a .be will be for a site located in Belgium. Depending on your needs, remember to choose your extension carefully, because it will reflect the typology of your site for years to come.
To summarize, the plans eligible for the free domain name offer are grouped into shared, Cloud and WordPress hosting. If you want to have this, you will need to make sure not to select the entry-level offer of shared or WordPress hosting. By respecting this, you will benefit, with your hosting subscription, from one year of free domain name.
Hosting plans not eligible for the domain name offered

As seen in the various previous paragraphs, Hostinger does not extend its "free domain name" offer to all of its hosting plans. If you want to benefit from this service, then you will have to avoid these offers:
Single accommodation (shared)

Single WordPress (WordPress)

VPS Hosting

cPanel Hosting
The rest of the offers are therefore eligible for the free domain name for one year. Before subscribing to a plan, remember to carefully check the characteristics of the plan. As Hostinger's interface is simple and quick to understand, the information is clearly laid out, leaving no room for doubt whether or not the domain name is offered.
Free domain name with Hostinger, for how long?

The domain name offered is for a limited period of one year. Indeed, once a 12,24 or 48 month subscription has been taken out on one of the offers benefiting from this advantage, your domain name will be free for a period of 12 months. Once this period has passed, it will be automatically renewed at its normal rate.
Renewal, what happens after?

Once the free date has passed, Hostinger will automatically renew your domain name. To find out the price applied, it is best to contact Hostinger customer service during the 12-month period. Generally, the prices assigned to these renewals are as follows:
.fr: €7.99/year

.com: €9.99/year

.shop: €0.99/year

…
By following this principle, the price will not exceed €9.99/year if you take a domain name with a "classic" extension. Domain names are part of an annual subscription, so you will pay this amount each year in order to renew your domain name. You can choose to do this manually or automatically.
Hostinger: services included with the domain name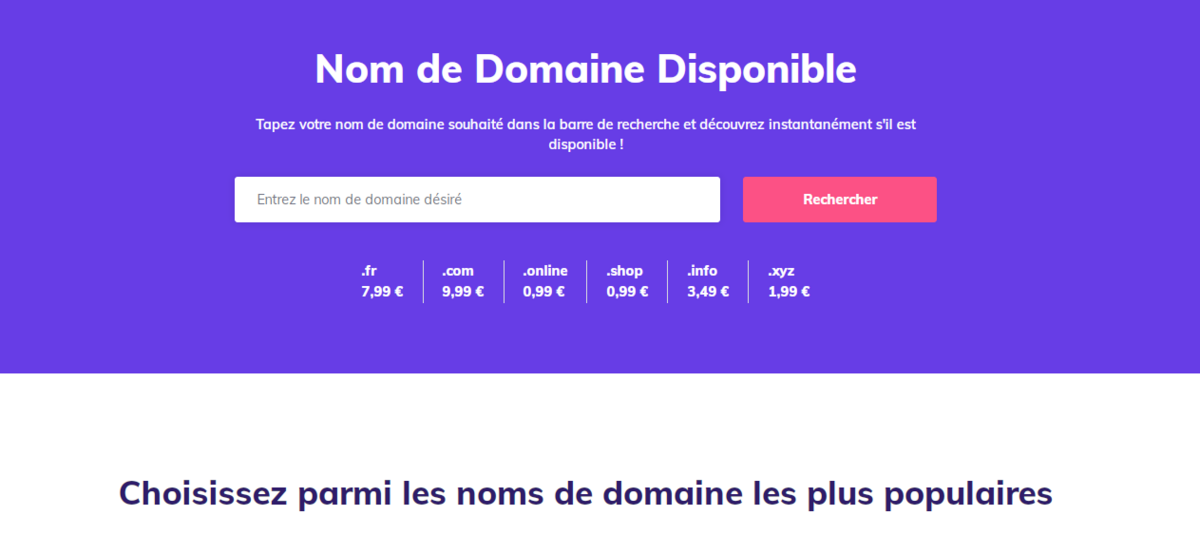 Hostinger being an established player on the market, by purchasing a domain name via its services, you ensure that you are on a reliable register, validated by ICANN, the domain name assignment company. With this subscription, you also benefit from dedicated customer service, available 7 days a week, 24 hours a day for the management of your domain name. Last important feature, the deployment of your domain name is instant with a step-by-step guide provided by Hostinger to link your "ndd" to your website.
Get a discount at Hostinger with the promo code CLUBIC

Hostinger Premium
storage




100 GB of storage

money_off




30 day refund

security




SSL certificate included

install_desktop




WordPress compatible
Hostinger ticks a lot of boxes, starting with the exhaustiveness of its offers as well as its attractive prices, although not always very clear at first glance. It is at the top of the best and most efficient hosts on the market. Another advantage is that it now has servers in France.
Read the full review Try Hostinger Premium now!
Hostinger Premium Benefits
An extremely rich range
A foolproof response time
NVMe servers in France
Attractive prices
Cons of Hostinger Premium
Low prices with a commitment