Increase your productivity with these best computer monitors for working from home.
If you regularly work from home, then your home office deserves the necessary care and attention. The best computer monitor for working from home is at the center of that. 
Such a best home work monitor must, among other things, be ergonomic and have a nice screen. Let's see what the best computer monitors for working from home are, and what is the most important thing to look for when buying a monitor.
Guide to buying computer monitor for work at home: How to select the best monitor?
Don't underestimate the importance of a good monitor. This increases productivity, gives you more job satisfaction and prevents unpleasant complaints. In this buying guide you will find some guidelines to find the best monitor for working from home for you. 
Adjustability
With a monitor for working from home, it is a must that you can adopt an ergonomic working posture. This means that you sit upright and do not have to bend your neck when you look at the screen.
With an adjustable monitor, you can set up your home workplace ergonomically, so that you don't have to pay for long working days with aches and pains. The screen is preferably adjustable in height, tiltable and the base is rotatable. You can then set the monitor completely to your liking.
Screen size
Computer monitors are generally between 17 and 49 inches in size (measured diagonally). The most popular monitor is a 24 inch monitor. This is a good size for general office use. A 27-inch monitor is too big to look up close on a desk, unless you have a deep desk.
While it's nice to have as large a viewing area as possible for certain work tasks, it's not always practical given the limited space on your desktop.
For those who have little space at their disposal, but would like to work on a large screen, a monitor mount offers a solution, as long as your desk or wall mounting is an option.
Each extra inch also has a price tag, so it also depends on your budget.
Screen resolution
The image on a monitor is made up of millions of tiny dots called pixels. Each pixel in turn consists of three sub-pixels, one for each primary color (red, yellow and blue). The resolution of a screen indicates the length × width of a screen in pixels.
The more pixels fit on a screen, the sharper and smoother the image. Resolution becomes more important as the size of a screen increases. On the smaller monitors (22 inches or smaller), the resolution does not have to  be a deal breaker: you will hardly notice the difference, if at all.
If your budget allows, go for at least 1920 × 1080 pixels (aka "Full HD resolution" or "1080p"). Lower resolutions are slowly disappearing from the shelves and I don't recommend them. Full HD is sufficient for tasks on the web, word processing and watching videos.
Just a little better than Full HD is 1920 × 1200 pixels (WUXGA). The image is slightly larger to coincide with the 16:10 aspect ratio. For that reason, WUXGA is popular in the business world.
2560 × 1440 pixels (2K, QHD or 1440p) is even two times sharper than Full HD. Go for at least 2K if you're looking for a monitor for photo editing.
The crème de la crème among monitors for working from home have a resolution of 3840 × 2160 pixels (4K or UHD).
This is the right choice if you are looking for a new monitor with a breathtaking image, for example because you work in the graphics sector or simply love the latest technical gadgets and are willing to pay more for it. 
Good to know: you need a powerful video card and processor to take advantage of a 4K resolution.
Panel type
The three most commonly used LCD panels in home monitors are TN, IPS, and VA, each with their own advantages and disadvantages. I'll list them for you below.
TN (twisted nematic) is the oldest technology and works with liquid crystals that can twist the polarization of light.
Advantages:
Has a fast response time
Is energy efficient
Comes with a lower price tag
Cons:
Has limited viewing angles
The color reproduction is faded
The contrast is weak
An IPS (in-plane switching) panel  uses liquid crystals aligned in parallel and rotating to allow light to pass through.
Advantages:
Provides the best color reproduction
Has wide viewing angles
Provides good contrast
Has a fairly favorable response time
Cons:
The energy consumption is high
Has a higher price
VA (vertical alignment) uses vertically aligned crystals that tilt to allow light to pass through.
Advantages:
Delivers a beautiful contrast with deep blacks
Offers good viewing angles
Cons:
The color reproduction is mediocre
Has a slow response time
What about OLED?
Most monitors currently have LCD panels, but OLED monitors are emerging – albeit slowly. OLED stands for organic light emitting diode and is a technology that promises perfect contrast, deep black and super fast pixel response. The fact that OLED monitors have not yet made a massive breakthrough has everything to do with the price tag. 
HDR
HDR stands for high dynamic range and is a color technology that enables a monitor to display a wider spectrum of colors and contrasts. In concrete terms, an HDR monitor displays nuances and color tones more realistically and shows more detail when it comes to light and dark.
To make it a bit more difficult, there are different HDR formats. HDR10 is the most common format. It is certainly no longer the latest standard, but it still has a big advantage over standard dynamic range (SDR).
This variant uses so-called static metadata, which means that the image settings are the same for the entire film or series and are not optimized per scene.
Dolby Vision and HDR10+, among others, use dynamic metadata and go one step further: the image settings are tailored to each individual scene of a series or film.
Refresh rate
The refresh rate is expressed in hertz (Hz). The higher this number, the smoother the display of motion on the screen. A Hz of 60 is enough for 'normal' use, although you are a bit safer with 75 Hz.
If you edit videos professionally, you should ideally go for a higher refresh rate. In that case you will probably end up with 120 Hz or more.
This also applies if you like to game on the same monitor after work. A variable refresh rate (VRR) is also a plus in that case. You can see this on a good FreeSync monitor, for example.
Thanks to the VRR, the refresh of your monitor and the moment at which your video card calculates new frames are synchronized, which counteracts the stuttering and tearing that gamers dread.
Response time
Response time (or response time) is the time it takes for the monitor to switch from one color to another, expressed in milliseconds (ms). This is measured in the time it takes to go from black to white and back to black, or to go from one shade of gray to another.
The lower the response time, the smoother the viewing experience.  Anything under 5 ms is generally considered very fast. 
Brightness
The brightness of a monitor is expressed in cd/m². For most users, 250 cd/m² is sufficient. You have to watch out for too much brightness, because that's a recipe for tired eyes.
Only if your home office is a bright room or has large windows, extra brightness can be useful. Direct light on your screen blurs the image and causes visibility problems. A brightness of 300 to 350 cd/m² is then desirable.
Curved monitor
A curved monitor has a curved screen that is shaped to your natural field of vision. This way you can see everything at a glance and you don't have to turn your eyes, head and neck, as you would with a flat screen. This reduces the risk of neck and back complaints and tired eyes.
The degree of curvature of the monitors differs and can be read from a number followed by the letter R (radius). The lower the number, the greater the curvature. Usually the curvature is between 1800 R and 400 R. A strong curvature is best reflected in a large screen (larger than 27 inches).
Ultra-wide monitor
Most monitors have an aspect ratio of 16:9. A monitor with an aspect ratio of 21:9 is called an ultrawide monitor.
You get a wide field of view: you have a third more space in width than with monitors with the traditional aspect ratio. The 21:9 aspect ratio is comparable to that of cinema screens.
If you use multiple programs at the same time for work (and therefore work in two windows at the same time), the best ultrawide monitor is worth considering.
Blue light filter
The television, your smartphone and tablet: they all produce artificial blue light. This disrupts the biological clock, resulting in a worse night's sleep. This light can also cause tired eyes and headaches.
If you also spend the whole day behind the computer for work, the complaints are quickly lurking. To prevent this, a monitor with a blue light filter is recommended. This technology filters the blue light from your screen and you can switch it on and off yourself in the settings.
Connections
You have to connect the monitor to your computer for working at home, and the right connections must be available for this. This can be done via DisplayPort, HDMI, DVI or VGA.
If you go for HDMI, pay particular attention to the standard. The rule here is: the higher the standard, the faster the HDMI connection. Pay attention to the standard of both the monitor and the source device, and of the cable.
In addition, several USB and USB-C ports are useful. Nowadays you can connect many peripherals via a USB-C cable. Many monitors nowadays have a USB hub on the bottom or back. In that case, you also connect the monitor to your computer via a USB cable.
As a result, the monitor also serves as a connection point for other USB devices. That is more than welcome if you run out of free ports on your PC.
Recommend and review 5 best computer monitors for working from home
1. Samsung LS24R650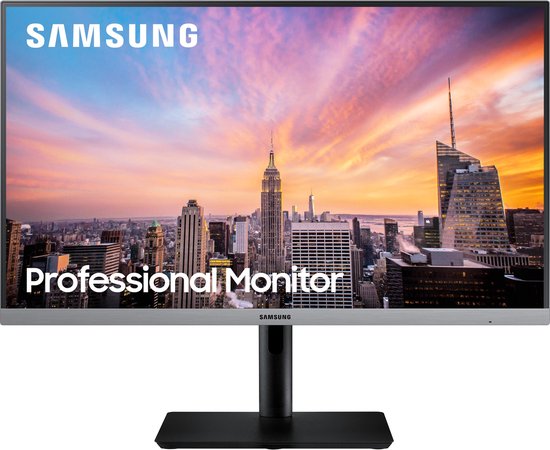 Screen size: 24 inches
Screen resolution: 1920 x 1080 pixels
Panel type: IPS
Height adjustable: Yes
Tiltable: Yes
HDMI: 1
Display refresh rate: 75 Hz
Type of HDR: No HDR
2. Samsung S32AM704UR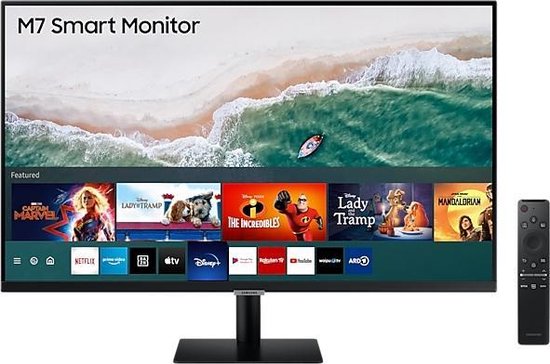 Screen size: 32 inches
Screen resolution: 3840 x 2160 pixels
Panel type: VA
Height adjustable: No
Tiltable: Yes
HDMI: 2
Display refresh rate: 60 Hz
Type of HDR: HDR 10
3. LG UltraGear 27GP850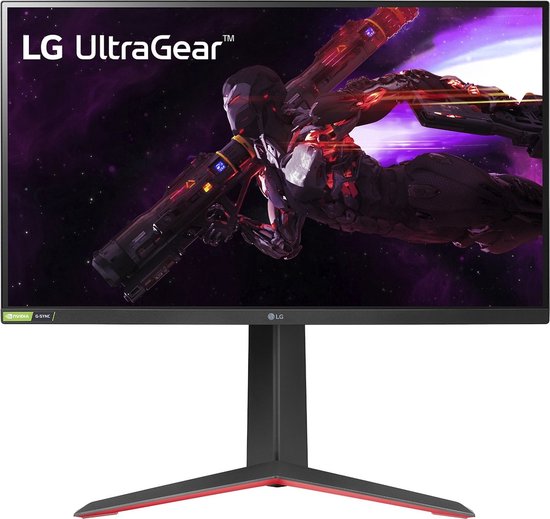 Screen size: 27 inches
Screen resolution: 2560 x 1440 pixels
Panel type: Nano IPS
Height adjustable: Yes
Tiltable: Yes
HDMI: 2
Display refresh rate: 165 Hz
Type of HDR: No HDR
4. HP E24 G4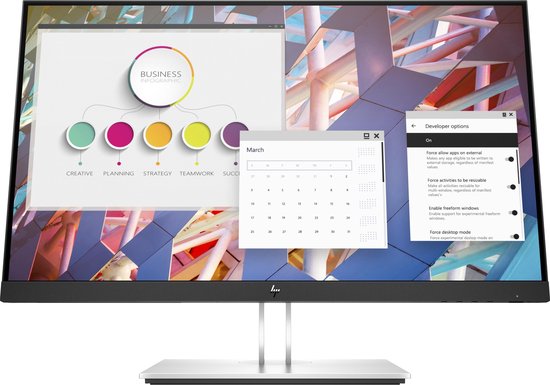 Screen size: 24 inches
Screen resolution: 1920 x 1080 pixels
Panel type: IPS
Height adjustable: Yes
Tiltable: Yes
HDMI: 1
Display refresh rate: 60 Hz
Type of HDR: No HDR
5. Samsung LS27R650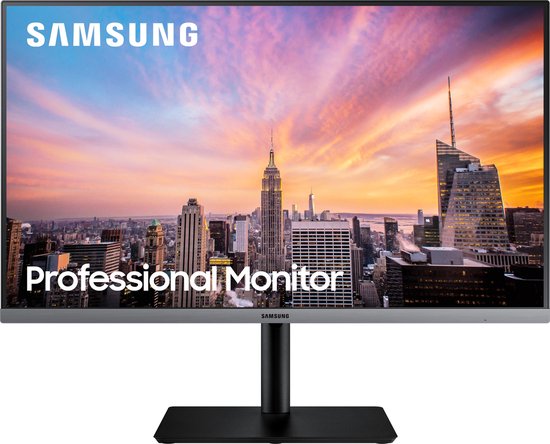 Screen size: 27 inches
Screen resolution: 1920 x 1080 pixels
Panel type: IPS
Height adjustable: Yes
Tiltable: Yes
HDMI: 1
Display refresh rate: 75 Hz
Type of HDR: No HDR
Frequently asked questions about the monitors for working from home
Below you will find the most frequently asked questions about computer monitors for working from home. If you have a question that isn't answered below, let us know!
What types of LCD panels are there?
There are three types of LCD technologies: TN (fast and cheap), VA (slower but great contrast) and IPS (the richest colors and the most expensive).
How do I know if a monitor is compatible with my computer?
First, check your computer's output and see which ports are available. Then check if the monitor has the same type of ports. If that is not the case, you can still connect it with an adapter or a special cable.
How do you clean a monitor?
Make sure the monitor is turned off and remove any dust with a soft, dry cloth. Remove any stains with a slightly damp cloth or with a mixture of half water and half vinegar. Never just use cleaning products and be careful with too much liquid, your monitor is not friends with that.
Which monitors for working from home should I buy?
That's entirely up to you and your budget; everyone is unique. What I do have for you, however, is a handy table of – in my opinion – the most important specifications of the best computer monitors for working from home. This is how you make the best choice!
| | | Screen size | Screen resolution | Panel type | Adjustable in height | Tiltable | HDMI | Display refresh rate | Type HDR |
| --- | --- | --- | --- | --- | --- | --- | --- | --- | --- |
| 1 | Samsung LS24R650 | 24 inches | 1920×1080 pixels | IPS | Yes | Yes | 1 | 75 Hz | No HDR |
| 2 | Samsung S32AM704UR | 32 inches | 3840 x 2160 pixels | VA | No | Yes | 2 | 60 Hz | HDR 10 |
| 3 | LG Ultra Gear 27GP850 | 27 inches | 2560×1440 pixels | Nano IPS | Yes | Yes | 2 | 165 Hz | No HDR |
| 4 | HP E24 G4 | 24 inches | 1920×1080 pixels | IPS | Yes | Yes | 1 | 60 Hz | No HDR |
| 5 | Samsung LS27R650 | 27 inches | 1920×1080 pixels | IPS | Yes | Yes | 1 | 75 Hz | No HDR |
Conclusion
A good computer monitor is an important purchase for home workers, but not the easiest one. As you read, there are quite a few things to take into account: the screen size, the resolution, the adjustability, the type of panel, the connections and that's not even all.
I hope that after reading this article you are at least well informed. Thanks for reading and good luck with the search!