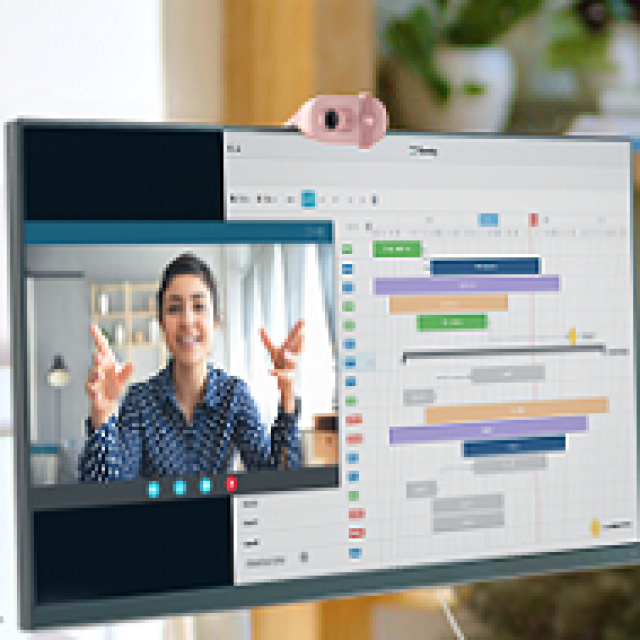 Logitech has released the Logitech Brio 100 webcam. This is equipped with a privacy shutter for more privacy and thanks RightLight the clarity of the webcam is greatly improved.
Megan van der Wagt
The Swiss Logitech is best known for its keyboards and mice such as the MX Keys S Combo and cameras and headsets such as the Logitech Zone Learn. Logitech recently released a new webcam: the Brio 100.
Brio 100 clarity
The new Logitech webcam Brio 100 works well with commonly used videoconferencing platforms such as Microsoft Teams and Zoom. The camera ensures that the user is clearly depicted, partly because it automatically balances the light. In addition, the RightLight boosts the brightness by up to 50%. This reduces shadows and makes the user look their best, according to Logitech.
Intelligibility and privacy
In addition to a good image, the webcam also ensures better intelligibility and privacy. The built-in microphone makes the user clearly audible and does not have to disrupt a video conference. Privacy is also taken into account with the new privacy shutter. This shutter closes automatically after a call or when the user logs out.
Colors and durability
The Brio 100 is available in three different colors: Graphite, Off-White and Rose. Furthermore, Logitech is trying to work on its ecological footprint by reducing their CO2 impact. The models have been created with sustainability in mind. The plastic parts in the webcams contain recycled plastic: the Graphite variant consists of 77% of this, while the Off-White and Rose variants consist of only 34% recycled plastic. The Brio 100 is also certified emission-neutral and the packaging is made of paper from FSC-certified forests and other controlled sources.
Recommended retail price and availability
The new Brio 100 webcam is now available via www.logitech.com/nl-nl and major retailers and has a suggested retail price of €49.99.