It's been rumored for a while, but now it's official: Royal Enfield has completely revived the iconic Bullet, the world's longest-running model that has been in production since 1932. The Bullet 350, the fourth model of the 350 family based on the J-series engine, will be available in two different versions.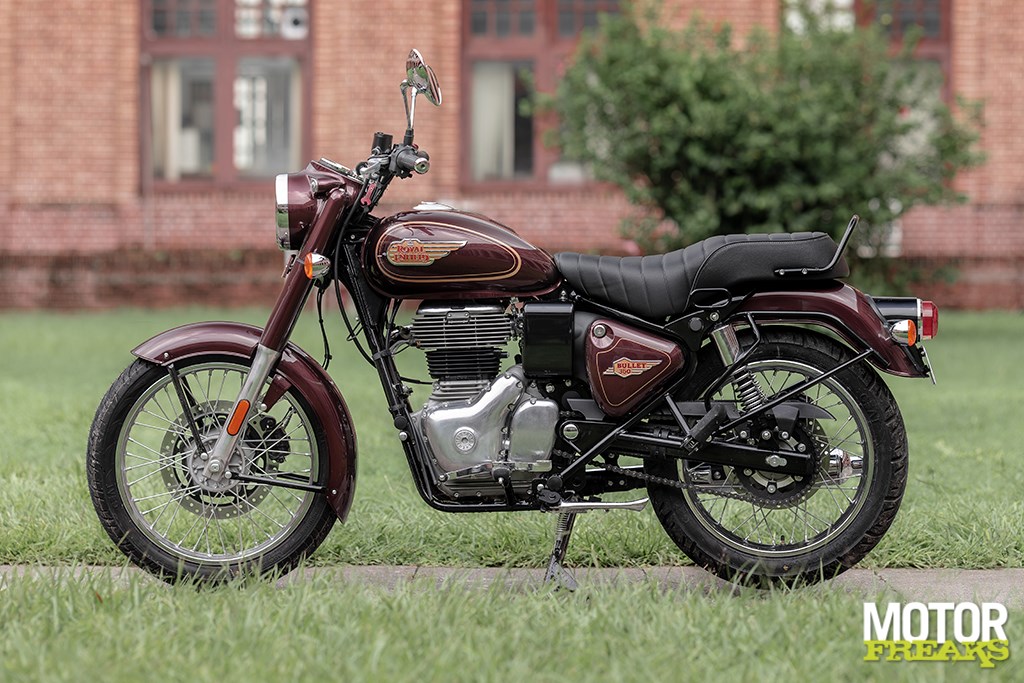 No model has left such an enormous mark on motorcycle history than the Bullet, which was unveiled by Royal Enfield in the United Kingdom in 1932 and has been in continuous production since then. The groundbreaking swingarm rear suspension was radically redesigned in 1948 and took the motorcycle world by storm. All other motorcycle manufacturers quickly followed suit.
The sales success of the Bullet was living proof that it doesn't have to be complicated, that two wheels, a block, a saddle and a handlebar are all you need. His driving qualities even in the most difficult conditions, his success in the service of the Indian armed forces and the subsequent switch to production in Madras in 1955, were a flying start to what became king of the Indian roads for decades.
There's little that can't be done on a Bullet. Over the course of its remarkable history, Bullets have overcome almost every challenge imaginable, from becoming champions in trials and international Six Days Trials to setting lap records in the Isle of Man TT and conquering the highest mountain passes.
The Bullet is a trusted companion on any kind of journey. From a weekend getaway to adventures around the world, a reliable means of transport for commuting and a hardy workhorse. It is a loyal partner to more than a million passionate riders around the world.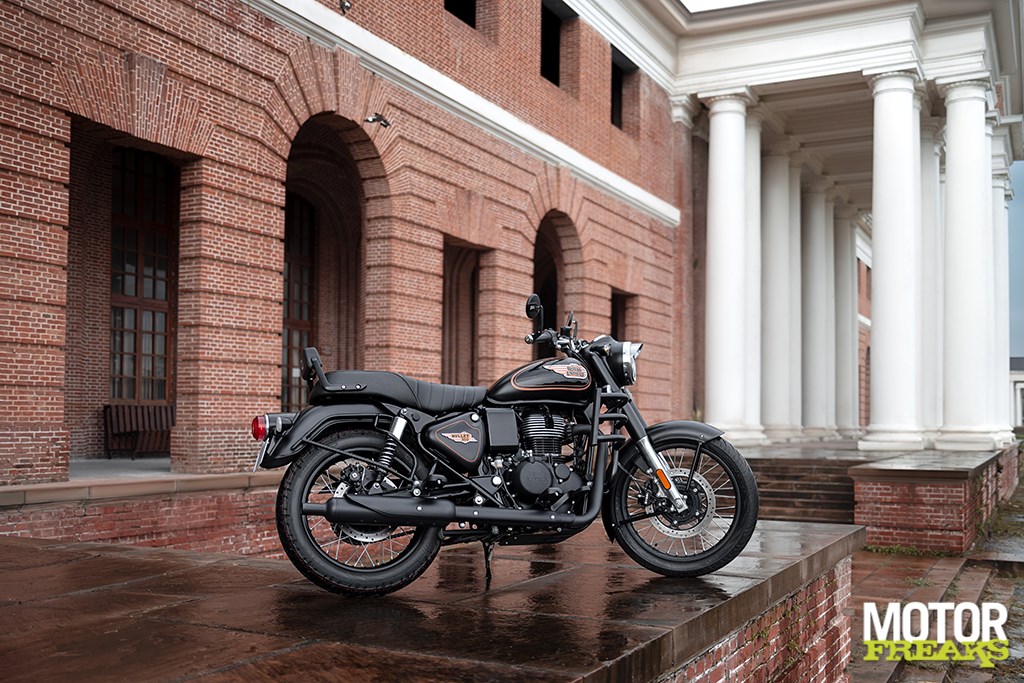 The Bullet is not only the longest-running model in production worldwide, but has also become part of India's social fabric, an heirloom passed from one generation to the next and spawning more than 1,000 'Riders Clubs'. For these loyal enthusiasts, Bullet Meri Jaan ('Bullet is My Life') is not just a grainy video and catchy song, but embodies a powerful symbolism that represents authenticity, stoicism, reliability and individuality.
With the launch of the Bullet 350, more than 90 years later, a new era has begun for the Bullet, which, according to the Indians, should be just as practical and multifunctional and have the same majestic appearance, rock-solid driving style, engine with strong torque and simple, must have a clear appearance.
B Govindarajan, CEO, Royal Enfield:
"For me, the Bullet is an unmistakable symbol of resilient engineering and aesthetics. It has withstood war and peace with unprecedented reliability and has been an ally of the bravest of the brave for more than 90 years.
The Bullet's pinstriping has been hand-applied by artisans for three generations and the Bullet has retained its regal appeal without indulging in fads.
The sleek simplicity of its form is in stark contrast to its rugged reliability, courage and character. We have deliberately strived to preserve the essence of the Royal Enfield Bullet's heritage as it prepares to transition into a new form and rides steadfastly into the next century and beyond."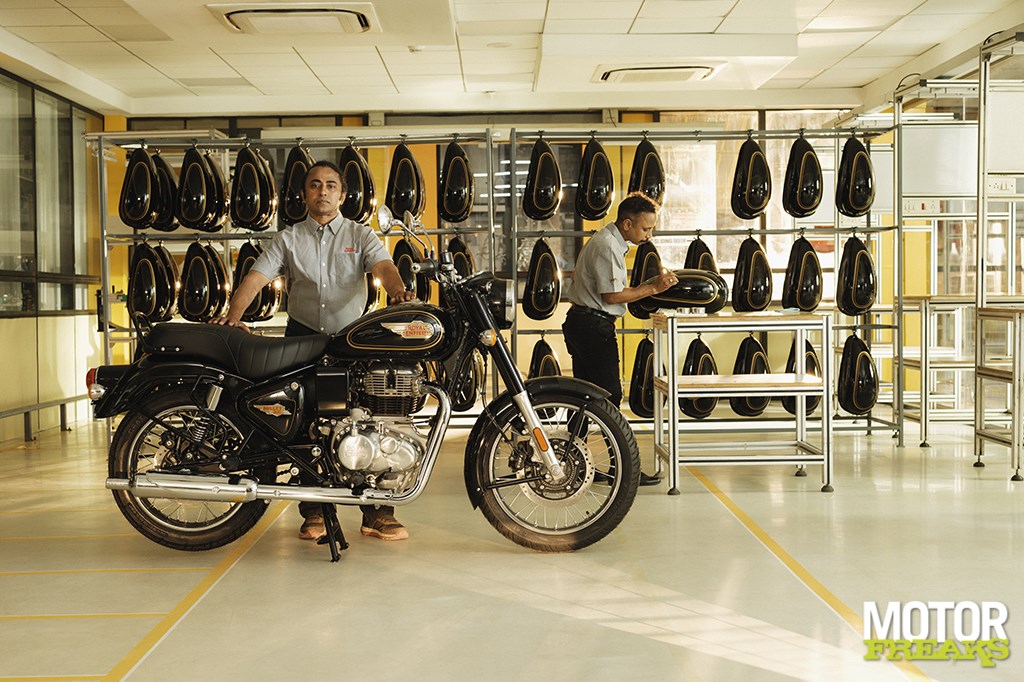 The Bullet 350 is the fourth model of the 350 platform, after the Meteor 350, Classic 350 and Hunter 350 – which was mysteriously marketed in Europe as HNTR – powered by the 349cc air-cooled single-cylinder engine, which is good for 20 .2 hp at 6100 rpm and 27 Nm of torque at 4000 rpm. Equipped with a primary balance shaft to eliminate vibrations and a 5-speed gearbox.
According to Enfield, the chassis has been designed for improved handling and agility. Because it is firmer than previous Bullets, it should provide more confidence at higher cornering speeds and feel more stable on straight roads. This should be reinforced by the 41mm front fork and wider profile tires, a 100/90-19″ front tire and a 120/80-18″ rear tire.
A 300 mm disc brake is mounted at the front and a 270 mm disc brake at the rear. Comfort is ensured by a new version of the single seat, which together with the redesigned mudguards contributes to the subtly evolved styling, a clear improvement in the motorcycle's proportions, stance and aesthetic balance.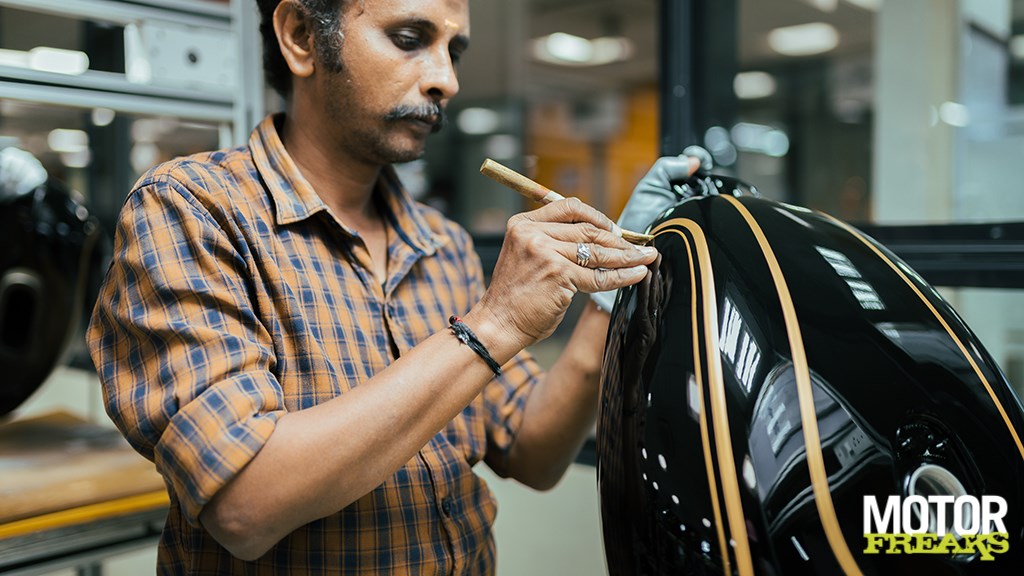 The Bullet 350 is released in Europe in two different editions, both handmade. The Bullet Standard in Black and Maroon has dual channel ABS, rear disc brake, finished with elegant hand pinstriped tanks and parts in combination with chrome and gold badges.
The Bullet Black Gold is a premium variant with a striking combination of a matte and gloss black tank, copper and gold-colored 3D badge, copper-colored pinstriping and trendy, blacked-out engine block and components, and also comes with dual-channel ABS and disc brake behind.
Both European editions are built with a distinctive 13-litre drip tank and the traditional Royal Enfield casquette with a new headlight – along with the distinctive 'tiger eyes' (turn signals) an enduring feature on Royal Enfield motorcycles since 1954.
More contemporary features include the new digital-analogue instrument cluster with an LCD information panel and a USB charging point under the steering wheel. The driving controls have received special attention to ensure top-class design, fit and finish with beautifully crafted rotary switch blocks that combine ease of use with a striking retro look.
The 2023 Bullet 350 is supported by an ecosystem of 28 genuine motorcycle accessories, nine of which are designed and developed specifically for the Bullet. These include comfortable touring and low saddles and touring handlebars. There is also a selection of high-quality motorcycle equipment, including helmets and clothing with details that reflect the Bullet's legendary pinstriping.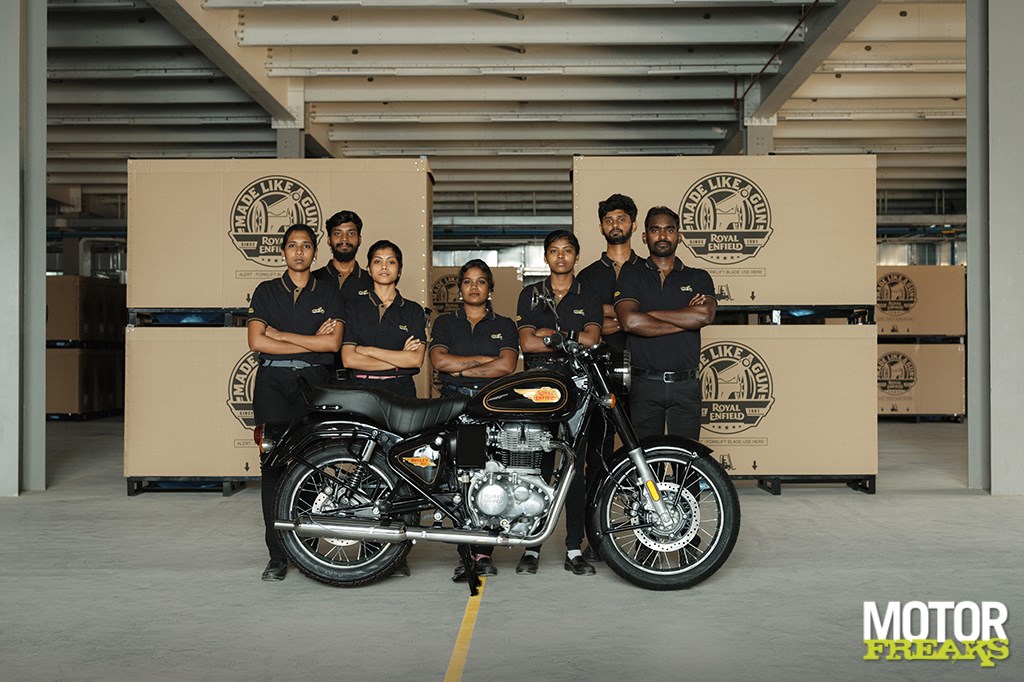 The Bullet is expected at Royal Enfield Dealers in the Benelux at the end of October / beginning of November. It is not yet known how much it will cost.
– Thanks for information from Motorfreaks.