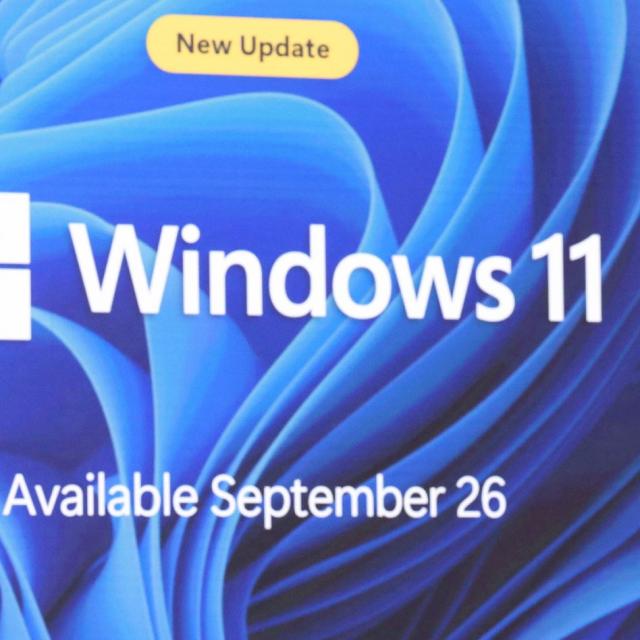 This fall, Microsoft will release the major Windows 23H2 update, but it is still unknown when. Although some expected the 23H2 update today, Microsoft is now releasing a new update for Windows 11 22H2. Read here what you can expect, which improvements and new features are added to Windows 11.
Microsoft wants to improve many existing features in Windows 11 in the near future and also add new features. These improvements and new features were recently announced, but it may take some time until they are offered via an upgrade. In this article you can read the most important improvements and new features, because Microsoft is making no fewer than 150 new features available in the Windows 11 22H2 update. By the way, most of the new features were already available in the preview versions of Windows 11 in 2023.
Windows Copilot
Microsoft plans to integrate the Windows Copilot into the Taskbar of the operating system. With just one click, the application becomes accessible via a side panel, as you see below.
(text continues below the image)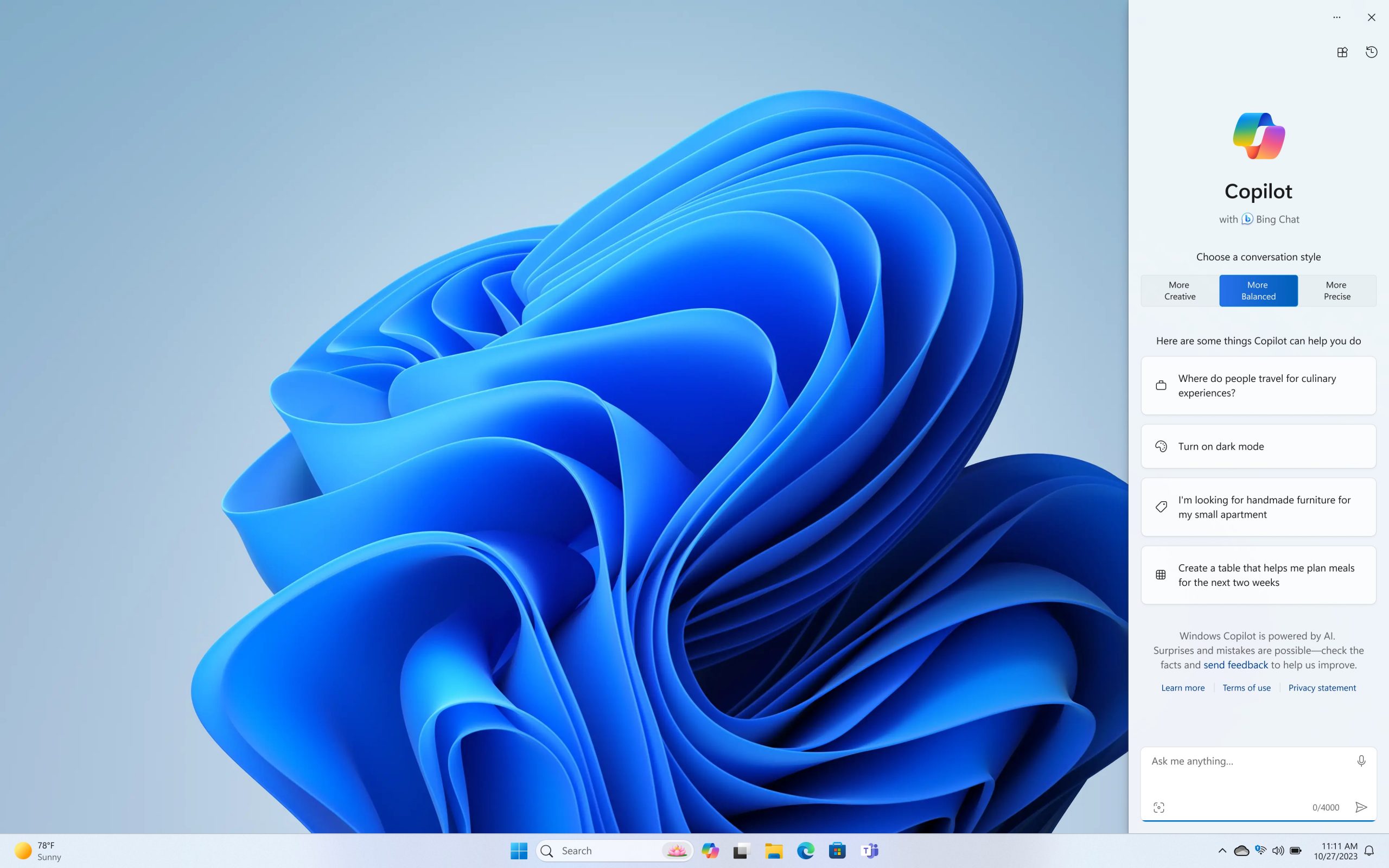 copilot in Windows 11
The chatbot is not only capable of answering questions (similar to Bing Chat), but can also open Windows settings and apps, as well as system functions such as enabling or disabling dark mode. In addition, you can connect Copilot to your smartphone, so that Copilot can, for example, send a text message to one of your contacts without you having to use the phone itself.
More new features in Windows 22H2 update
The new Windows 11 22H2 update should be next Copilot also include plenty of other new features according to Microsoft's blog post. Almost all of these features were already available in previous test versions:
Paint is enriched with AI features for drawing and digital creation. This includes background removal and layers, as well as a preview of Co-creatorwhich brings generative AI power to the Paint app.
The Windows photosprogram has also been improved with AI, with new features that simplify editing your photos. Of Background Blur you can quickly make the subject of your photo stand out by blurring the background. The photosapp automatically detects the background in the photo and highlights your subject with one click. Search has been improved so you can now find photos based on the photo content, even if they're stored in your OneDrive accounts (home or personal) or based on the location where they were taken.
The Windows Snipping Tool now offers more ways to take a screenshot with Windows 11. With this update, you can extract specific text content from an image to paste into another application, or you can easily protect your sensitive information with text editing using on-screen text actions after capturing it. Moreover, sound recording with audio and microphone support has been added to make creating engaging videos and screen content easier.
Clipchamp, which now includes automatic composing, helps you create and edit videos by suggesting scenes, edits, and stories based on your images and footage. This way you can create and edit videos to share with family, friends and on social media.
Notepad will automatically start saving your session status so that you Notepad can close without interruptions. When you return, you can pick up where you left off, with automatic recovery of previously opened tabs, unsaved content, and edits made to those tabs.
With the new Outlook for Windows, Microsoft says you can connect and coordinate all your different accounts (including Gmail, Yahoo, iCloud and more) in one app. Intelligent tools help you write clear, concise emails and make it easy to attach important documents and photos from OneDrive.
The modernized one file explorer introduces a new one At homesection, address bar and search box. These are all designed, according to Microsoft, to provide easier access to important and relevant content, keep you up to date with file activity, and collaborate without even opening a file. Additionally, a new Gallery feature is added to the Scout to make it easier to access your photo collection.
Windows Backup should make switching to a new Windows 11 computer easier: transferring most files, apps and settings from one computer to another should now remain exactly the way you left it and the way you want it,
(text continues below the image)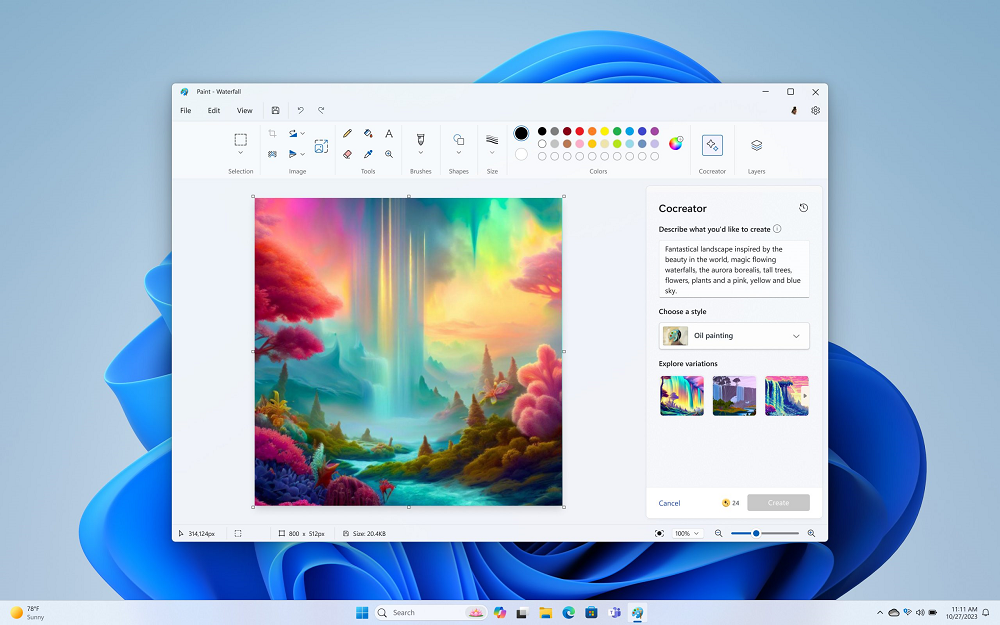 Example of an AI created image by Cocreator in Paint
Windows 11 23H2
This means that the Windows 11 23H2 release will have to wait a while, but it will appear later this year. And of course you can read about it on pcactive.nl. Until then, you can probably use some of the new features of the above-mentioned Windows 11 22H2 update.