The iPhone 11 Pro is only one year old, but the lower price makes it an interesting alternative to the iPhone 12. We test it again in this review update for 2021.

The iPhone 11 Pro for this review update was made available by Apple
Also this year on iPhone: review updates
Because iPhones last for years and are often sold for years, we have come up with something on iPhoned. We test every iPhone that Apple still supports with iOS updates in this section.
Here we look at whether an iPhone is still worth getting in the year 2021. Today it is the turn of the iPhone 11 Pro. Also read our other review updates:
Review update: The iPhone SE will be overtaken and obsolete in all areas in 2021
Review update: the iPhone 6S is cheap nowadays, but still too expensive
Review update: The iPhone 7 is no longer recommended in 2021
Review update: iPhone 8 is a neat entry-level device, but time is running out
Review update: the iPhone X still looks young, but gets its first wrinkles
Design: after a year already somewhat outdated
You will have noticed that Apple introduced a new design with the iPhone 12. With tougher edges and no rounded corners, the latest iPhones are more like the recent iPad Pros than the iPhone 11.
The disadvantage of this is that the iPhone 11 Pro immediately feels less 'new' than the iPhone 12, while there are only a little more than 12 months between them. If Apple releases the iPhone 13 in 2021, it will look the same as the iPhone 12, so the 12 will continue to feel like a modern iPhone for at least three more years. The iPhone 11 Pro therefore feels just as 'old' as the iPhone X.
That does not alter the fact that the iPhone 11 Pro still looks good. The midnight green color is still a personal favorite not outdone by the dark blue of the iPhone 12 Pro.
Something the iPhone 11 Pro lacks compared to the iPhone 12 series is the ceramic shield. This new glass plate makes the iPhone 12 much more scratch and fall resistant, and that is clearly noticeable. The iPhone 11 Pro that I have used for a year is the iPhone with the most scratches, while the iPhone 12 Pro still looks like new after a few months. So stick a screen protector on it.
Performance: nothing to criticize
The advantage of an iPhone is its long life. Because Apple develops hardware and software itself and coordinates so well with each other, the iPhone 11 Pro can still compete with the best smartphones of the moment a year later.
The iPhone 12 is faster and better, but you will not notice much of this in practice. The iPhone 11 Pro easily runs the heaviest apps and games and will continue to do so for the time being. We expect 99% of iPhone users to get more than enough power with the iPhone 11 Pro.
For example, we tried graphics-intensive games like Sky: Children of the Light, Genshin Impact and Call of Duty: Mobile. The iPhone 11 Pro can handle these games without any problems, with relatively short loading times. Only in a few years you will notice that the iPhone 12 has a more modern chip than the iPhone 11, but that is nothing to worry about in 2021 (and also in 2022).
Price and camera: an interesting iPhone 12 alternative
What strikes us most is the price the iPhone 11 Pro is now sold for. On average, you pay around 920 euros for a new model with 64GB of memory, two hundred euros less than the iPhone 12 Pro and only fifty euros more than the iPhone 12.
The latter is especially interesting, because apart from the new design and support for MagSafe, the iPhone 11 Pro has more to offer, especially when it comes to the camera. The iPhone 12 has to make do with a wide angle and ultra wide angle lens, but the iPhone 11 Pro adds an extra telephoto lens.
This extra lens especially makes zooming in much better. By optically zooming up to twice you can get a closer image without compromising on quality. That makes the iPhone 11 Pro camera the better choice in our opinion, despite the improvements of the iPhone 12 camera.
Future-proof
More than nine hundred euros for a new smartphone is of course a considerable amount of money, especially if you do not get the latest of the latest. Still, with the iPhone 11 Pro in 2021, you don't have to worry about how future-proof the device is.
Actually, Apple always supports iPhones with iOS updates for five years or more, which means that the iPhone 11 Pro will be safe in this area for at least 2024. That is also good news if you want to resell your iPhone in a year or two when you switch to a new one. iPhones retain their value much more strongly than any Android device.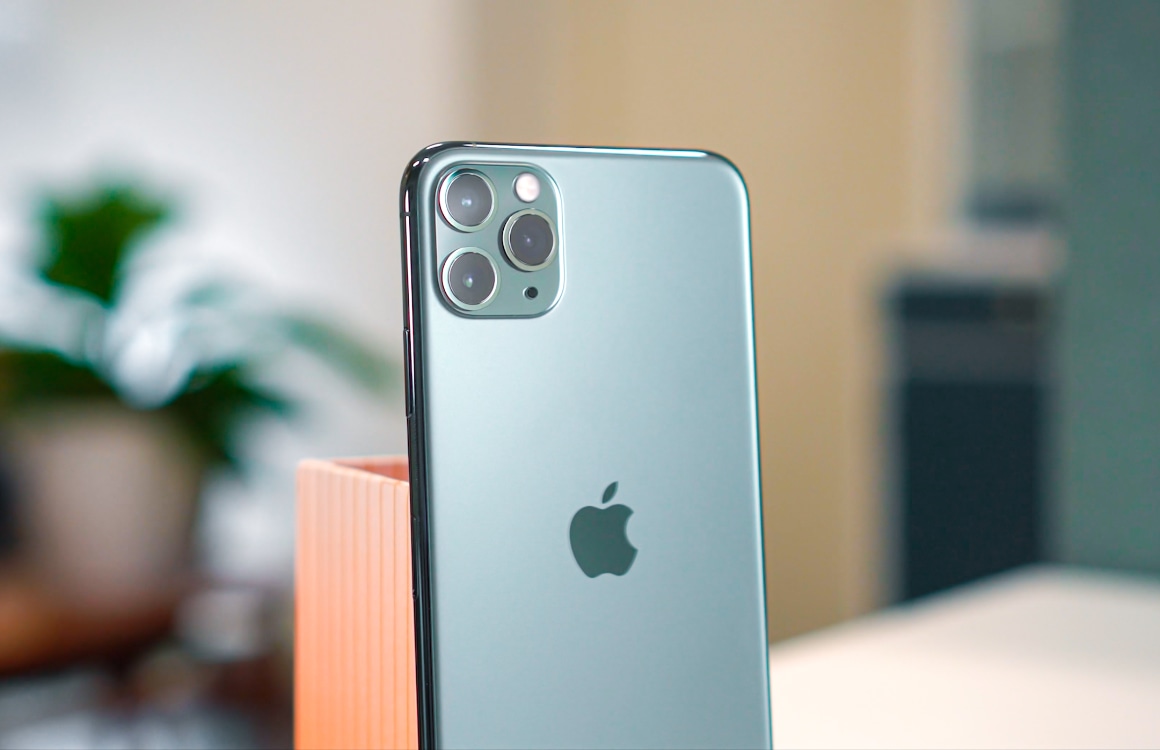 Conclusion iPhone 11 Pro in 2021 review
Do you find photography with your iPhone important and do you attach less value to the new design and MagSafe? Then the iPhone 11 Pro in 2021 is an excellent and more affordable choice than the iPhone 12 Pro. Even a year later, this iPhone is still quite expensive, so unless you have no qualms about spending more than 900 euros on a smartphone, you will undoubtedly be very satisfied with everything the 11 Pro has to offer.
Pros iPhone 11 Pro



Excellent camera




Still future-proof




Comparable price with iPhone 12
Cons iPhone 11 Pro



Outdated design




Screen scratches quickly
Buy iPhone 11 Pro
Have you become enthusiastic after reading this iPhone 11 Pro in 2021 review update? Then use our price comparison tool to get the device for the best price. Whether you are looking for an iPhone 11 Pro with a subscription or a separate iPhone 11 Pro: you are at the right place with iPhoned.