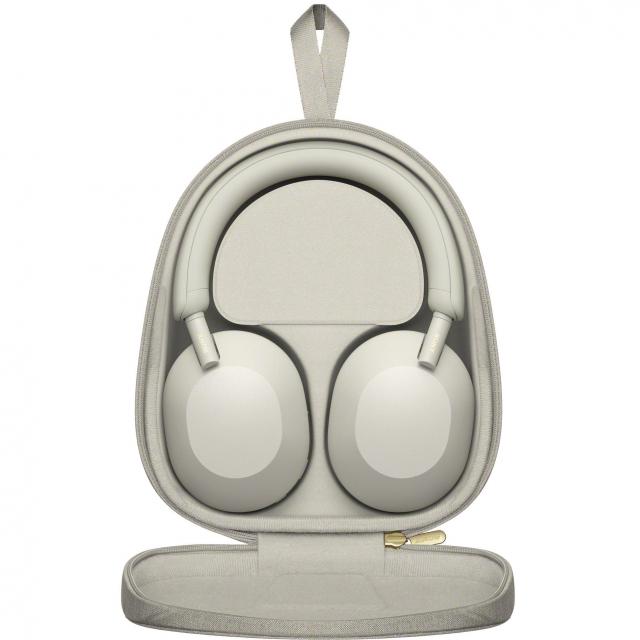 Sony comes with the new wireless noise canceling headphones WH-1000XM5. These over-ear headphones have two processors that control eight microphones and optimally reduce noise and a new design with improved wearing comfort. What else can you expect from the Sony WH-1000XM5?
The Sony WH-1000XM3 has been the best over-ear headphones with noise cancellation since its introduction in 2018 and was followed by the Sony WH-1000XM4 which has a top quality in its price segment. Today Sony announces the latest version of its acclaimed 1000X series. According to Sony, the wireless noise canceling headphones WH-1000XM5 take noise canceling and audio quality to a whole new level thanks to the application of innovative technologies. In brief:
• Wireless over-ear headphones with noise canceling technology via eight microphones and Auto NC Optimizer
• Excellent sound quality and call quality that automatically adapts to the environment
• Excellent wearing comfort and hours of listening with a new design and a battery life of 30 hours
• Innovations such as Speak-to-Chat, wearing detection and multi-point connection
• Completely new design and very pleasant wearing comfort thanks to ergonomic design
• Personalized listening via Sony Headphones Connect app for Android and IOS
Even better noise canceling
The WH-1000XM5 automatically filters out unwanted sounds in any location thanks to two processors that control eight microphones and optimally reduce noise. The 1000XM5 suppresses noise especially in the mid and high frequencies and the Auto NC Optimizer automatically optimizes this according to the environment. Using the Integrated Processor V1, the WH-1000XM5 utilizes the full performance of Sony's HD Noise Canceling Processor QN1. The specially developed 30 mm driver provides excellent noise suppression. These functionalities improve sound clarity and bass reproduction and offer excellent noise cancellation.
Call quality
With the WH-1000XM5 headphones it is pleasant to make phone calls. Sony's precise Voice Pickup technology uses four beamforming microphones and AI-based noise canceling to accurately isolate each voice. This technology comes from the popular LinkBuds. A newly developed technology to suppress wind noise during conversations minimizes wind noise. A busy street or a noisy work environment can now still be a place to catch up on the phone with friends or colleagues.
Sound
The Sony WH-1000XM5 headphones have a specially designed 30mm driver with a light, rigid dome made of, among other things, carbon fiber composite that improves high-frequency sensitivity for a more natural sound quality. Lead-free and gold-containing soldering material is also used for excellent conductivity and optimum wiring. It ensures that every song has a clear and consistent sound.
Music lovers enjoy premium High-Resolution Audio thanks to LDAC. This is Sony's industry adopted audio coding technology. All music will be optimized while preserving the treble. This is done with DSEE Extreme, which upscales digital music files in real time.
360 Reality Audio
The WH-1000MX5 is suitable for playing 360 Reality Audio. This encoding technology guarantees a three-dimensional music experience that gives listeners the feeling that the sound is coming from all directions. This experience is made possible by Sony's object-based spatial audio technology. 360 Reality Audio is available via, for example, a smartphone or tablet (Android & IOS) with an app from a participating streaming service.
New design with improved wearing comfort
The WH-1000XM5 has a new design that is beautifully finished with a newly developed leather fit with stepless slider. The synthetic leather material with a soft fit fits snugly around the head. The headphones take pressure off the ears and block out external noise, allowing the user to listen all day long.
Full control
The headphones also have an Adaptive Sound Control feature. This system automatically adjusts the sound to the situation. It recognizes the locations you visit most and adjusts the ambient sound settings accordingly. The WH-1000XM5 is also equipped with Quick Access to quickly configure the headphones. With two or three taps it's easy to start and continue playing Spotify; grabbing the smartphone is not necessary. The WH-1000XM5 also has some smart features to help make the day run smoothly. Thanks to Speak-to-Chat, a conversation can be held quickly. The headphones automatically stop the music and allow ambient noise. Once the call is over, the music will continue playing and with the help of 'instant pause' the sound will stop as soon as the headphones are removed.
Multi point connection
The WH-1000XM5 headset can be easily paired with two Bluetooth devices at the same time. When a call comes in, the headphone recognizes the device and connects automatically. This allows the user to quickly and smoothly switch between devices at the touch of a button.
For example, the WH-1000XM5 can be connected to both a laptop and smartphone. As soon as a phone call comes in via the smartphone – while the user is listening to music on the laptop – the phone conversation can easily be recorded. With a simple touch of the touch-pad on the headphone, you can instantly and easily switch between the two connected devices.
Hours of listening and excellent connectivity
The WH-1000XM5 is equipped with NFC and Bluetooth 5.2 and has a battery life of up to 30 hours (with Bluetooth and noise canceling enabled). The headphone also has a Quick Charging function to enjoy 5 hours of music from just 10 minutes of charging. And if you are in a hurry, USB Power Delivery (PD) can charge for an impressive 3 hours in 3 minutes.
The WH-1000XM5 also supports Google's handy Fast Pair feature. It simply indicates where WH-1000XM5 has been left by listening to the tone sound or searching for its last known location in Google's Find my device App on a smartphone. The WH-1000XM5 is compatible with Google Assistant and Alexa. A smartphone or tablet can be controlled via voice commands via this assistant.
Made with care for the environment
Sony designed these headphones with the environment in mind. The packaging for the WH-1000XM5 contains no plastic and is designed based on low toxicity principles and a socially responsible 'Made to be Remade' philosophy. The product packaging is produced with recycled and sustainable materials, specially developed for Sony. The WH-1000XM5 uses recycled plastic material from car parts, among other things.
Prices and availability
The WH-1000XM5 comes with a convenient collapsible carrying case that can be made thinner for easy storage. The WH-1000XM5 headphones will be available in black and platinum silver from May 2022 for €420.