Looking for a good deal on your new iPhone? During Black Friday, KPN again has major discounts for you on various iPhones, including the brand new iPhone 15. These are the best Black Friday deals from KPN for Apple enthusiasts!
Black Friday at KPN: iPhone 15 and iPhone 14 competitively priced
Do you have a new iPhone in mind and can you also use a subscription for it? You can score it with great savings at KPN during Black Friday. The brand new iPhone 15, among others, is extra competitively priced, but you can also get older models cheaply. We have listed the best Black Friday deals from KPN.
You can also temporarily close all KPN subscriptions without connection costs (worth €25) off. The offers apply from November 13 to November 27. If the stock runs out, then you are unfortunately out of luck. So be quick!
iPhone 15: brand new and extra competitively priced
The iPhone 15 is Apple's flagship of 2023 and has received many of the features we saw on the iPhone 14 Pro last year. The Dynamic Island is one of them. This replaces the large notch and adapts to the different notifications that arrive. You can also use this bar for different timers or to control your music.
Furthermore, several camera functions from the iPhone 14 Pro come to the iPhone 15. You have access to a 48 megapixel main lens and the device uses the same A16 Bionic chip, although with a number of improvements.
The automatic portrait mode is new. It automatically applies the portrait effect as soon as people or animals are recognized, but it is also possible to add this later or move the focus. You can get this iPhone 15 extra cheaply at KPN during Black Friday.
iPhone 14 extra competitively priced
Due to new legislation, Apple is also obliged to provide new devices with a USB-C port. The iPhone 15 is the very first iPhone with this connection. Annoying if you still have a drawer full of Lightning cables from previous iPhones. Fortunately, the iPhone 14 still uses Lightning and you can get it extra cheaply from KPN during Black Friday.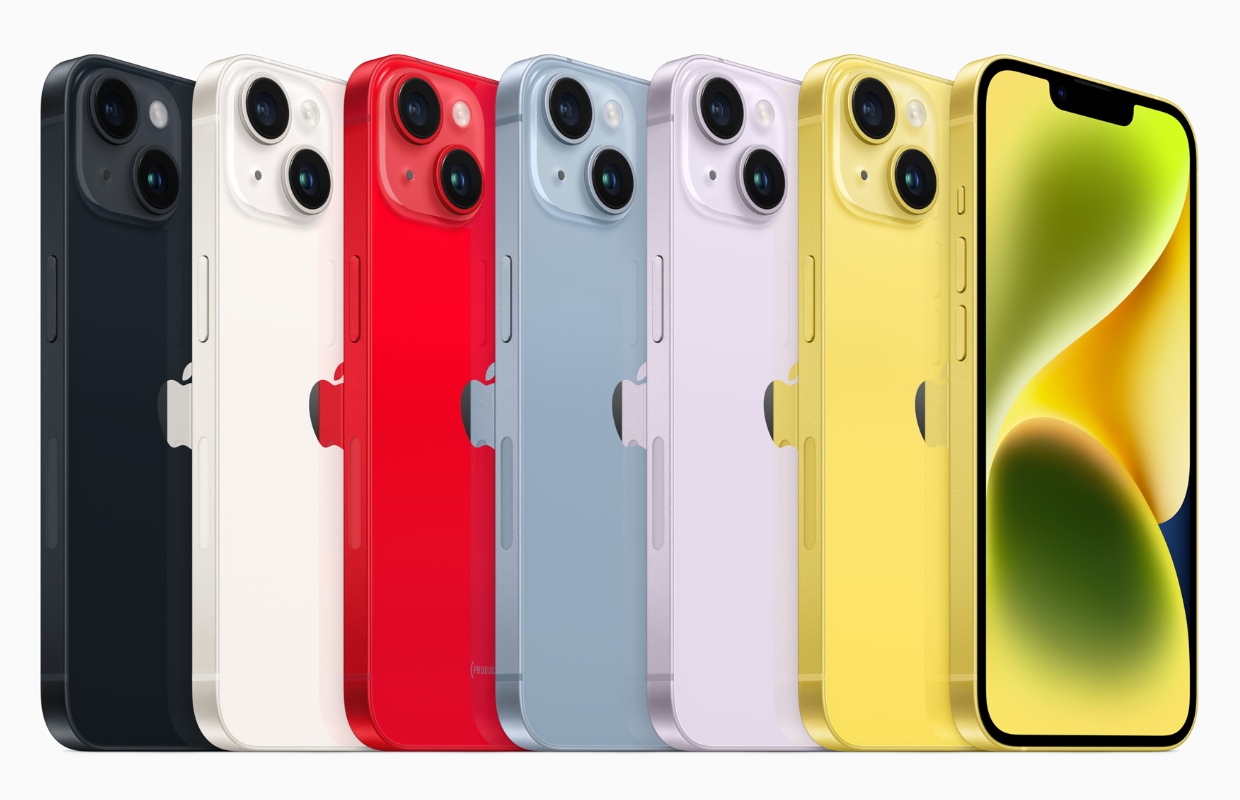 Then there is also a difference in colors. Apple has opted for pastel colors with the iPhone 15. Would you rather stand out with your iPhone? Then you choose between bright red, yellow, purple, white or black with the iPhone 14. Furthermore, the device uses a powerful processor and you can take sharp photos in an instant.
Discover the iPhone 14 at KPN
iPhone 13 also affordable during Black Friday at KPN
Everything comes to an end and Apple doesn't make their iPhones forever either. If you still want to get the iPhone 13, this is your last chance. It is competitively priced at KPN, but has a limited stock. Be quick, because it's gone!
Would you rather choose the iPhone 13 than one of the newer iPhones? It is already a few years old, but can easily last a number of years. This is due to the powerful processor and the excellent update policy that Apple applies. An iPhone receives at least 5 years of iOS updates, which means that the iPhone 13 can still count on at least 3 years of updates.
Discover the iPhone 13 at KPN
Even more Black Friday deals at KPN
Is your Black Friday deal not listed here? Don't worry, because KPN has many more. This way you can end KPN Internet and TV with a very nice offer.
You can choose which gift you receive from KPN with your new internet subscription. With a two-year subscription that is one Coolblue gift voucher worth €250 or pay €35 per month for the first 12 months. If you prefer a one-year subscription, you get: two free SuperWifi points or do you pay the first 6 months €35 per month.
This is an advertorial: a sponsored article submitted by an advertiser. The content of the advertorial is separate from the iPhoned editorial staff and editorial articles on the website. Advertorials are recognizable by the title '(ADV)', the banner in the image and/or the indication "sponsored by" and the sponsor's logo. Want to know more about advertorials and other commercial expressions on iPhoned? Then view our editorial statute.