Netflix may be present in 190 countries around the world, but the streaming platform does not offer the same content from one country to another. To access all French and foreign catalogs, one of the most effective solutions is to opt for one of the best VPNs, such as Surfshark, capable of simulating a geographic position other than that of the Internet user.
Acquired by Nord Security (NordVPN) in 2022, Surfshark is taking advantage of this opportunity to increase its network and improve its performance. Offering a solid infrastructure of more than 3,200 RAM servers with capacities reaching 10 Gb/s in around a hundred countries, the provider is one of the best VPNs of the moment and promises a comfortable streaming experience, free from the georestrictions imposed by Netflix.
What are the benefits of unblocking Netflix?

Just like its main competitors, Surfshark claims its ability to lure streaming services and circumvent georestriction measures in place. But what is the point of unblocking sVoD platforms?
First argument: unblock foreign catalogs. You may not know it, but streaming platforms reserve access to certain content for specific geographic areas based on the exploitation and distribution rights acquired. This is why you cannot watch certain films or series from Netflix France even though they are available on Netflix US or Netflix GB, for example.
The advantage of a VPN optimized for streaming lies in its ability to hide your real IP address and swap it for one of the IPs of its servers located elsewhere in the world. The IP address carries various information, including your geolocation, this emulation makes sVoD services believe that you are physically located in another country of your choice. Therefore, you easily access the content catalog corresponding to your fictitious geographic location.
Access the French catalog from abroad

Following the same logic, using a VPN to lure Netflix and others allows you to access the French catalog when you are abroad, whether you are on vacation, on a business trip or a permanent resident.
Here, a VPN like Surfshark will allow you to hide your foreign IP and emulate a French address. Enough to continue your unfinished series or watch the rest of that film that you loved without waiting to set foot on French soil again, as we were able to verify in our comparison of the best VPNs for streaming.
How to unblock Netflix with Surfshark VPN?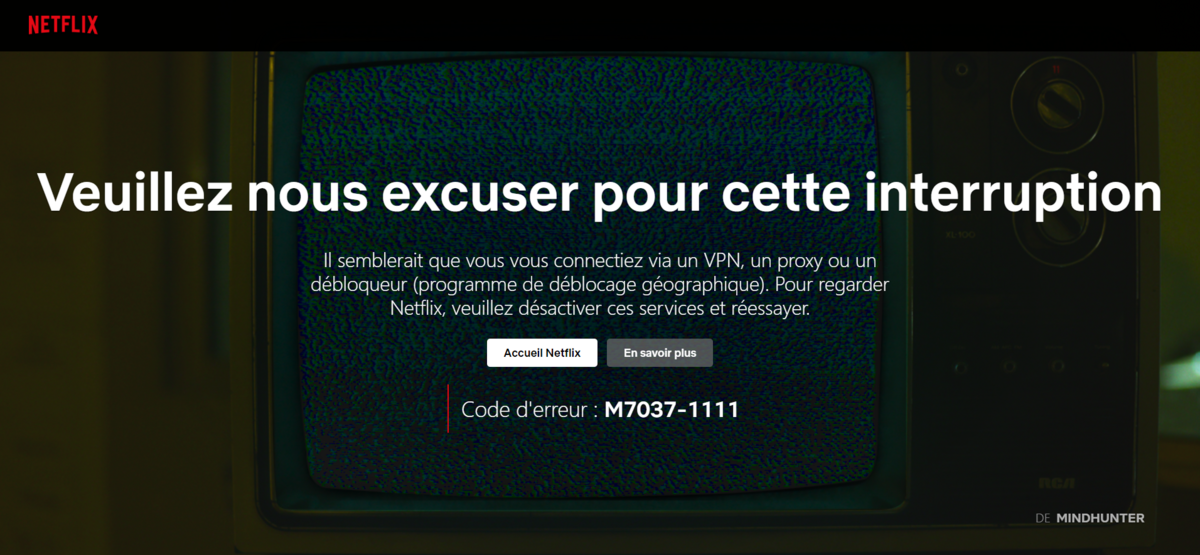 Choosing a server dedicated to streaming

And at Surfshark, Internet users are spoiled for choice. Indeed, while some of its competitors have a fleet of equipment specifically dedicated to sVoD, the Dutch provider strives to optimize its entire infrastructure for streaming, i.e. more than 3,200 servers distributed in a hundred countries.
To unblock a foreign or French catalog, simply connect to any server located in the chosen country, and go to Netflix with your new IP address.
What to do in case of trouble ?

You just logged in to Surfshark and tried to access the streaming service, but:
Netflix has detected the use of a VPN and is blocking access to the platform and/or you are unable to access an extraterritorial catalog: change server. Although Surfshark is able to lure the most restrictive streaming services, the provider is not immune to having some of its equipment blacklisted. If the problem persists, clear the browser cache (Ctrl+Shift+Del > Clear Browsing Data). You can also switch to private browsing. Remember to disconnect from the VPN before implementing the last two solutions, then reconnect.
Internet connection does not work: disconnect VPN. In Surfshark Settings, find VPN Settings > Protocol. Manually select OpenVPN (TCP), OpenVPN (UDP) or WireGuard. Restart the VPN connection. If the problem persists, restart your Internet box and/or your device.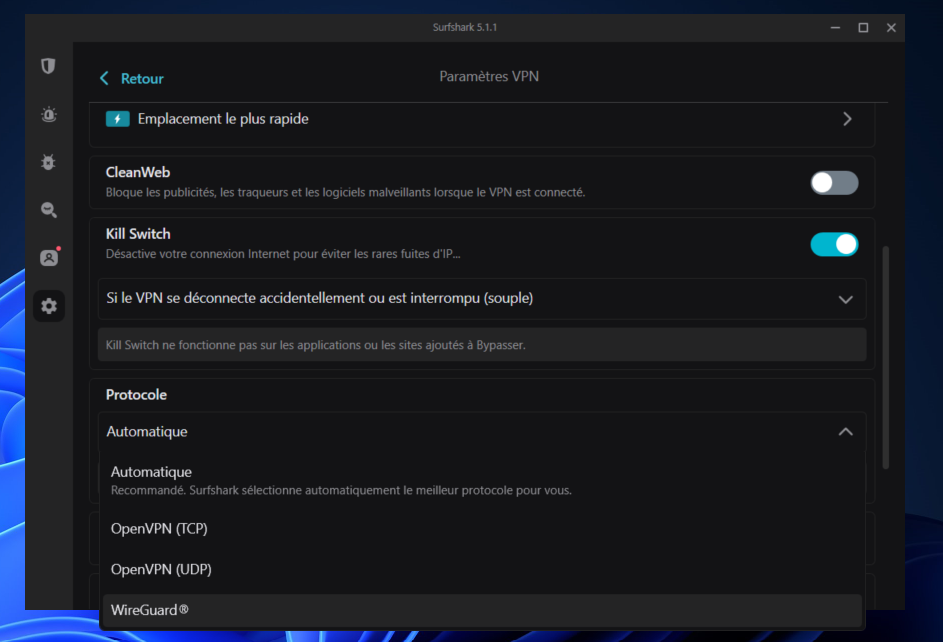 Unblocking Netflix with Surfshark, is it legal?

Briefly mentioned above, the rights to broadcast and exploit audiovisual content are a reality that streaming platforms must adhere to. Clearly, each service financially acquires the right to distribute films, series and documentaries. These contracts are signed on a national scale, which therefore explains why certain works are accessible in certain countries only. As such, it is perfectly legitimate to ask the question: is it legal to use a VPN to unblock all Netflix catalogs?
In France, audiovisual is subject to media chronology. This provision requires TV channels and VoD/sVoD platforms to respect a period of 4 months between the release of a work and its marketing (rental/purchase on digital or physical media), 6 months to broadcast it on a channel accessible by subscription (Canal+, for example), and 15 months to see it on Netflix.
The media chronology is not specific to France, but its application methods vary from one country to another depending on the laws in force in the territory. For example, in the United States, the 15-month deadline imposed on Netflix in France is reduced to 45 days. Hence the temptation, for French viewers, to use a VPN to unblock the US catalog of the streaming service.
You should also know that in France, the law does not explicitly prohibit using a VPN to access foreign multimedia content. On the other hand, Netflix must comply with the legal framework governing the exploitation and distribution of works on French territory. In other words, there is a gray area: by circumventing the georestriction measures imposed by the sVoD platform using a VPN, the Internet user is not considered outside the law, but Netflix is.
We also take this opportunity to remind you that just because an action is not explicitly prohibited does not mean that it is not contrary to the law and copyright.

Surfshark VPN
storage




3200 servers

language




100 countries covered

lan




Unlimited simultaneous connections

mood




Free trial 30 days

description




No data log
Surfshark is a top-tier service, almost on par with the best VPNs on the market. It stands out by offering an unlimited number of simultaneous connections as well as advanced security tools. It is one of the best possible choices for the general public.
Read the full review Try Surfshark VPN now!
Surfshark VPN Benefits
Above average speeds
Unlimited number of devices
Nexus Network
Dedicated IPs
Antivirus solution
Cons Surfshark VPN
Cross-platform coverage to improve
Unstable web extensions